Hshtags, a new search engine dedicated to searching hashtag use across social networks, launched in beta in September.
To get started with the new social media search engine, one simply signs up, then connects their favorite social networks.
Currently, the platform searches Facebook, Twitter, Instagram, Flickr, YouTube, Vimeo, and Tumblr. Once a search is completed, it's possible to filter the results based on the type of post (text, image, video), or by social network.
What isn't clear right now is the order in which results are returned. For example, when I search for #SourceCon, the results returned are not in chronological order, and do not appear to be based on the number of times shared. Since the search engine is currently in beta, I'm sure there are a lot of developments around the corner. For the record (if the Hshtags team is reading), I would like to be able to sort results by most recent, and most shared posts.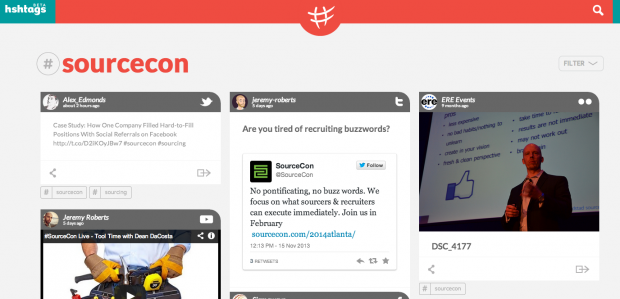 To learn more about the Hshtags founder and her vision for the site, read this post from Molly McHugh at Digital Trends.