"Time is what we want most, but what we use worst."
What is the number one thing ever recruiter/sourcer wishes they had?
What if I told you I could give you that one thing?
No, it isn't a magic ball that predicts if a candidate will do well in an onsite.
No, it isn't a miraculous email that every candidate will reply to with interest.
No, it isn't a mythical laptop that makes our ATS run at 10x the speed.
Well, then what is it?
It is TIME!
I poled over 50 recruiters/sources, and 42 of them said that one thing was more time in a day.
I'm not a Jedi who can stop time (despite my name being Marc Hamel, I am unfortunately not Luke Skywalker).
However, I am a recruiter who knows this pain and have found some super easy hacks that will save an endless amount of time in your daily work.
Think of this like the "signatures" we all use in outlook. This app allows you to map keys to different phrases or sentences. For me, I type similar subject lines, Boolean strings, search phrases and much more over and over throughout the day.
PhraseExpress has been a game changer. It even shows how much time you have saved each day by using the hotkeys verses physically typing out the phrase.
On average, this app saves me 24 minutes per day. That is over two hours per week, eight hours per month and 96 hours a year. Think about it, How much more productive could you be with an extra 2 hours each week.
Here is how to use this glorious creature:
Step 1:
Download and install the application: https://www.phraseexpress.com/download.php (MacOS version available too).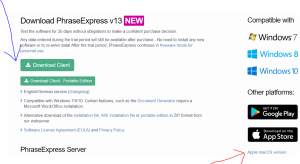 Step 2:
Open the app and click "New Phrase."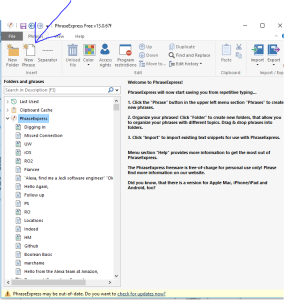 Step 3:
Create a title and input your phrase.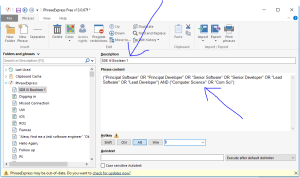 Step 4:
Chose the command / key-command/keymap for this phrase. For this example, I select "ALT + 1."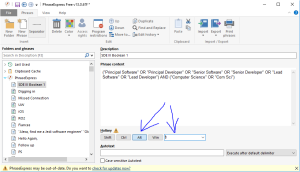 Step 5:
Simple go to whatever platform you would like to type this phrase into and presto: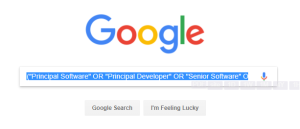 This tool could be the most simplistic of all tools. Simply put, it loads the next page of search results on Google when scrolling to the end of the page. Thus, eliminating the need to click the next page arrow (and load an entirely new page).
Instead, you can keep scrolling and scrolling through "Endless" Google pages. When x-raying into sites, this simple script is a huge time saver!
Step 1:
To utilize this great tool, you will first need to download a chrome extension called "Tampermonkey."
Per the extension, "Tampermonkey is used to run so-called 'userscripts' (sometimes also called Greasemonkey scripts). Userscripts are little computer programs that for example add download buttons to YouTube pages, clean up your Facebook timeline or help to play an online game."
However, I utilize it for sourcing and writing your scripts is super easy. Reach out to me if you would like to learn information.
This can be installed here: https://chrome.google.com/webstore/detail/tampermonkey/dhdgffkkebhmkfjojejmpbldmpobfkfo?hl=en
Step 2:
Install Endless Google from https://greasyfork.org/en/scripts/4868-endless-google.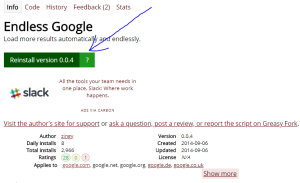 Step 3:
Search Google and never again have to press the "next" page button!
Another straightforward tool, Sales Search is a Chrome extension that provides a quick search function via right-clicking on a highlighted term. These quick searches are customizable for many of the frequently visited sites of sourcer. I have personalized mine to quick search Facebook, Google, Google Images, Twitter, Bing and more. This neat little tool is a huge time saver. It eliminates many steps in your daily search process.
Step 1:
Download the chrome extension: https://chrome.google.com/webstore/detail/sales-search/kbmcekfipmkbidlnanphamaipndhiepg?hl=en
Step 2:
Once installed, click on the Sales Search icon in your extension bar.
You can select all the quick search sites you would like. As you scroll down, you'll see countless sites to search.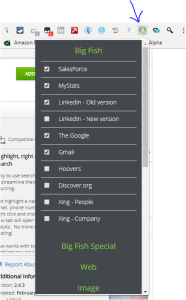 Step 3:
Highlight the term you would like to search and right click.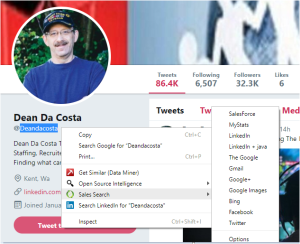 With just three simple tools I have saved several hours a week by eliminating a handful of tedious tasks we all do daily, or hourly.
Now, what to do with all the time I've saved? SOURCE!