"Time flies, but our need for it remains constant."
Hello there, sourcers and recruiters! It's hard to believe that it's been five years since we first surveyed our community about the most desired resource in our profession. Back in 2018, we found that an astonishing 42 out of 50 of you cited the need for more time in your daily schedule. As recruiters and sourcers, we know that time is often the difference between finding the perfect candidate and missing out on a stellar opportunity.
Fast forward to 2023, and the situation remains the same. We may have new tools, new strategies, and new roles to fill, but time is still at the top of our wishlist. We may not have discovered the secret to time travel yet, but we have the next best thing: tools that can help us save time.
Just as in our original report, we're here to share some revolutionary tools that will help you reclaim your time. These tools are designed to streamline your work and make your day-to-day tasks more efficient. So, buckle up and get ready to take a leap into the future of recruiting and sourcing.
Bookmarklet Boolean Builder
Ever wished for a tool that could construct Boolean search strings at the click of a button? The Bookmarklet Boolean Builder is here to grant your wish. A bookmarklet is a small software application stored as a bookmark in a web browser, which typically allows a user to interact with the currently loaded web page in some way. In this case, the Bookmarklet Boolean Builder helps you create effective search strings in a jiffy, thereby speeding up your search for the perfect candidate.
Here's how to use it:
1. Set up: To start using the Bookmarklet Boolean Builder, simply copy the entire text from this file, beginning with "javascript:(function()" and create a new bookmark. Title the bookmark what you would like and paste the text from the file into where it says "URL). This action installs the bookmarklet on your browser.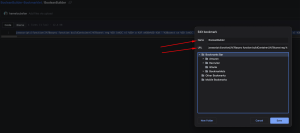 2. Use: A Boolean builder will pop up in the browser, allowing you to paste any words from the page. Simply select the modifiers on the right, then "Convert to Boolean" at the bottom. Boom, a perfectly constructed Boolean string appears.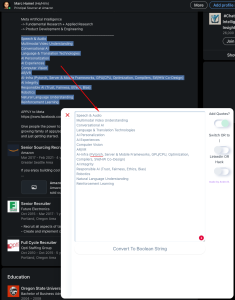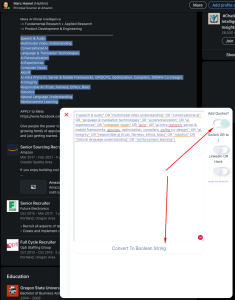 By reducing the time spent on constructing search strings, the Bookmarklet Boolean Builder allows you to dedicate more time to connecting with potential candidates.
LinkedIn "See More" Expander Bookmarklet
Think of all the times you've been scanning a LinkedIn profile and had to repeatedly click on "see more" to fully understand the candidate's experience, skills, and qualifications. It's a small action, but when repeated across multiple profiles, it can take up a significant portion of your time. That's where our nifty "See More" Expander Bookmarklet comes in.
This bookmarklet is a small application stored in your web browser as a bookmark. It automates the process of clicking "see more" on LinkedIn profiles, allowing you to view all the information at once.
Here's how to set it up and use it:
1. Set up: To start using the LinkedIn "See More" Expander Bookmarklet, simply copy the entire text from this file, beginning with "javascript:(function()" and create a new bookmark. Title the bookmark what you would like and paste the text from the file into where it says "URL). This action installs the bookmarklet on your browser.
2. Use: When you're on a LinkedIn profile, click on the bookmarklet in your bookmarks bar. This automatically expands all the "see more" sections on the page, giving you an instant and comprehensive view of the candidate's profile.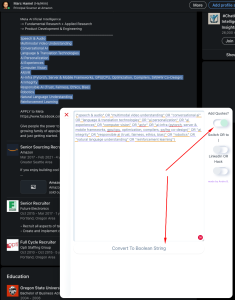 By eliminating the repetitive task of clicking "see more", this bookmarklet saves you valuable time, which can be better spent evaluating candidates and reaching out to potential hires.
(All credit to Andre Bradshaw for the script)
Navigating through the labyrinth of social media profiles just got easier with Gotanda. It's a powerful Chrome extension designed to perform quick searches across various social media platforms. With just a right mouse click, you can gain invaluable insights about a potential candidate's online presence, saving you the time and effort typically spent manually searching each platform.
Here's how to install and use Gotanda:
1. Installation: Visit the Gotanda page on the Chrome Web Store at this link. Click the "Add to Chrome" button to install the extension on your browser.
2. Usage: Once Gotanda is installed, you can use it by right-clicking on the name (First/Last or username) of the individual you're interested in. Select 'Gotanda' from the context menu and the platform you want to search. The extension will fetch relevant social media profiles, providing you with a wealth of information at your fingertips.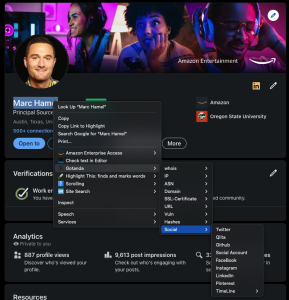 Gotanda is a tool that truly redefines efficiency, eliminating multiple steps in your daily search process and accelerating your sourcing endeavors.
In the world of sourcing and recruiting, understanding the terminology and technologies related to the roles we're filling is crucial. That's where "Search Patterns" comes into play. This Chrome extension not only assists in keyword discovery but also helps in understanding search patterns, enhancing your knowledge of the terminology and technologies within your niche. This understanding translates into a more efficient and effective search for candidates.
Here's how to install and use "Search Patterns":
Installation

: Visit the Search Patterns page on the Chrome Web Store at this link. Click on the "Add to Chrome" button to install the extension on your browser.

Usage

: After installing the extension, conduct your search as usual in your browser. The Search Patterns extension will automatically analyze the search results, suggesting relevant keywords and patterns that can streamline your search process. These suggestions, displayed in a convenient sidebar alongside your search results, offer insights into the terminologies and technologies being used and searched for in your field.
Here is an example chart for finding words similar to PyTorch (aka, other deep learning frameworks)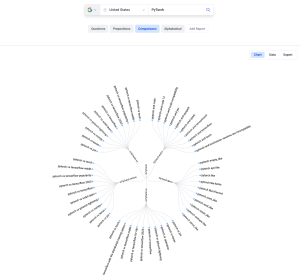 Here is the same but in list format vs. chart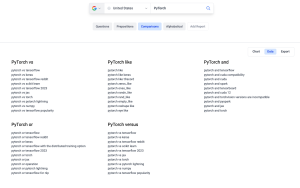 "Search Patterns" is more than just a keyword tool; it's a learning tool. As it guides you through the maze of industry-specific terminologies, it enhances your understanding and helps you keep up with the ever-evolving tech landscape. This not only saves time but also improves the quality of your sourcing efforts, as you're equipped with the right language to find and communicate with the best candidates.
It's a remarkable feeling to witness how far we've come since our initial survey in 2018. The desire for more time was and still is a universal sentiment among recruiters and sourcers. While we can't create more hours in a day, we can certainly work smarter. By harnessing the power of these tools, we can optimize our time, improve our efficiency, and ultimately, find the perfect candidate faster.
In the wise words of a certain Jedi Master, "Do or do not, there is no try." So here's to doing more, trying less, and making every minute count in our pursuit of sourcing excellence. Just remember, while the sands of Tatooine keep shifting, with the right tools, we can keep pace. May the Force (and time) be with you!