Salaries for tech workers in the U.S. will rise almost twice the national average in 2013 — some will increase even more, up to 12 percent — a symptom of how competitive the competition for talent has become.
"The hiring environment for technology talent is only going to become tougher for employers in the year ahead," says Robert Half International. As a result, tech salaries, already among the richest in the country, will see an average increase of 5.3 percent, compared to a national average for all occupations of about 3 percent.
Many jobs, however, will see substantially higher increases. Mobile developers will see the biggest increase; their 9 percent average reflects the dramatic growth in mobile applications and the shortage of specialists in this area. Web developers and data professionals can expect an average 7.3 percent increase. Wireless network engineer positions will average a 7.9 percent bump. And when candidates with additional, and highly specialized skills are required, Robert Half says they can expect to average as much as 12 percent more than others with the same job title.
The global staffing and search firm says in its latest Robert Half Technology 2013 Salary Guide:
The pool of available candidates continues to shrink, while the demand for technology experts is climbing. Competition is expected to be particularly fierce for professionals who can support mobile, big data, cloud, and virtualization initiatives. Talented candidates with high-demand skills may receive multiple job offers — and most will be very selective when choosing an opportunity.
What this means in terms of dollars is that a wireless network engineer, who in 2012 ranges in pay from $79,250 to $108,500, will command a 2013 salary in the $85,500 to $117,000 range. And if the employer requires additional skills such as Cisco network administration, the salary range could bump up another 9 percent, according to the Robert Half survey.
And woe to employers in high demand parts of the country. Where an employer in El Paso, Texas, might get away paying only 70 percent of the national average, a few hours east in Houston employers may have to pay a 6 percent premium to the average. Candidates willing to relocate can earn a premium of as much as 35.5 percent in San Francisco, and just a few percentage points less in San Jose (33 percent), Paramus, New Jersey (30 percent) which is just minutes from New York City, or, if they work in the city itself, get 40 percent more.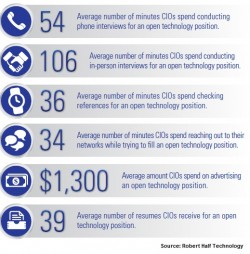 Besides listing dozens of salary ranges for IT jobs in the U.S. and Canada, the Salary Guide includes detailed descriptions for each job, and some words about the explosive growth that's just around the corner for so-called Big Data.
"Capturing the full potential of big data requires skilled technology talent," notes the guide, which goes on to list five data mining and warehousing administration and engineering positions that are in demand and will remain so next year and into the future. Besides the national shortage of IT talent, Robert Half suggests these jobs will be even harder to fill because companies are looking for business acumen, as well as technical skills.
Says the Robert Half Guide, "(companies) are looking specifically for candidates who possess that that ideal union of business knowledge, technology expertise, and analytics skills."