What's the most trafficked site by Americans searching for a job? Turns out it's Indeed.
Last month, says comScore, the web traffic measurement company, 17.3 million different visitors from the U.S. clicked into Indeed to look for a job. That translates into a 29% increase over December's job search count.
Overall, January saw a 24% increase in the job search category, ranking comScore's broader Career Services category among the fastest growing of all website groupings.
Jeff Hackett, executive vice president of comScore, noted that in addition to big jumps in tax and travel sites, "We also saw a very seasonal spike in the Career Services category, including Job Search, Training and Education, and Career Resource sites, as Americans looked for ways to grow their careers and expand their skill sets in 2013."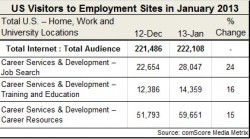 CareerBuilder, Monster and SimplyHired also saw big increases in their job search traffic. CareerBuilder was up 20% to 9.6 million visitors; Monster grew 32% to 9.1 million, and; SimplyHired was up 40% to 4.7 million.
Each site actually had more total traffic than those numbers imply, because comScore counts only first visits to a site by job seekers no matter how many times they return during the month. In addition, many job sites also offer a collection of resources, such as tips for resume writing, interviewing, and the like. Visitors to the resources parts of a job board get counted a second time, and included in the Career Resources counts.
Counting web visitors gets complicated quickly. The same person may get counted three times in a single session while visiting the same site if they viewed different parts of it that are categorized into different subgroups. But, when rolling up the numbers into the broad Career Services group, they would be counted only once.
Also influencing the counts is how a site is categorized. LinkedIn, which earns more than half its revenue from job postings and recruiter access, is categorized as a social network. Were it to be counted as a careers site, its 46.4 million different U.S. visitors would likely rank it first in that category. (How it would rank in the job search subcategory, or in any of the others, is unknown.) Still, LinkedIn is the 22nd-most trafficked site in the U.S., falling immediately behind Craigslist.
Head not spinning yet? Good, then consider that Indeed itself declared it had more than 100 million visitors worldwide in January. It knows that because it uses Google Analytics to count its traffic, and it doesn't break that traffic down into subgroups.
CareerBuilder and Monster and LinkedIn all have international sites and get sizable traffic from outside the U.S. However, the comScore report released today is a count of only U.S. traffic.