Non-farm payrolls rose more than most economists expected in July, adding 163,000 new jobs with most industry sectors in plus territory, including a strong showing in manufacturers where some of the 25,000 increase was due to fewer layoffs in the auto industry.
The unemployment rate ticked up slightly to 8.3 percent.
This morning's report from the U.S. Department of Labor surprised economists who were expecting a more modest increase in the range of 95,000 to 110.000. Nearly all the surveys found economists expecting no change in the 8.2 percent unemployment rate.
The government also revised up its new job numbers for May from 77,000 to 87,000 and reduced June's numbers by 16,000 to 64,000.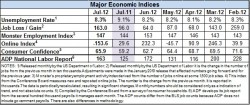 July's surprise, which a Barron's blogger called a "rare non-disappointment," was  more encouraging than it might seem. The fact that most sectors added jobs signals employers mirrored consumer confidence, as shown by The Conference Board's Consumer Confidence Index. It was up three points in July to 65.9, the first rise in five months.
So far, the employment picture seems a replay of the last two years. Strong start to the year; slowdown in the spring and summer; then a pickup as fall approaches. Last year, after May through August saw fewer than 100,000 new jobs created each month, in September, the number jumped to 202,000. This year, July is an up month, but it's anyone's guess whether this is a blip or if it means the pickup may come sooner.
One sign suggesting a blip is that the Labor Department found no change in the average length of the workweek or in factory overtime or other other hours. Increases here are typically an early signal of increased orders and business that may prompt additional hiring in the months to come.
"It's certainly been consistent with past years, where we had a slowdown in the spring and summer, and in all three years, it's been Europe," Barclays economist Dean Maki told Forbes. "And then as we moved on, growth would pick-up in the summer, as would GDP growth."
The Bureau of Labor Statistics, which compiles the data and analyzes the results, found the biggest gain came in typical summer time hospitality and leisure services, with restaurants and bars adding 29,400 workers during July. Amusement parks, museums, performing arts centers and other attractions, however, shed jobs.
Other sectors with big gains were healthcare and temporary workers. Doctor's offices, outpatient facilities, and hospitals all added workers, creating 12,000 new jobs in the sector. Staffing services continued to grow, creating 14,100 new positions. Non-government education added 18,200.
The jump in manufacturing jobs was due, the BLS noted in its report, from "the motor vehicles and parts industry (which) had fewer seasonal layoffs than is typical for July, contributing to a seasonally adjusted employment increase of 13,000."
The biggest cuts came from reductions by government, and in the utility sector, which was down 8,100 position, largely due to a labor strike. State governments cut 6,000 jobs, while the Post Office lost 3,200. Minor increases in federal hiring, left the sector with a net loss of 9,000 jobs.
Meanwhile, despite the increase in the unemployment rate, the numbers of people out of work or underemployed changed little in July. Between those out of work and those working part-time because they can't find full-time jobs, they totaled 21 million. Another 2.5 million are out of work, but not officially counted among the unemployed, because they didn't look for a job during the government's survey period.