Today, LinkedIn announced that mobile photo sharing will be rolled out to all users over the next few weeks. If you've been following LinkedIn updates in recent years, you'll probably remember that LinkedIn started allowing users to upload photos last year. The new update will allow users to share photos from Android, iOS or the mobile web.
Why is this a big deal? LinkedIn points to the Talent Trends 2014 Report which found that 56% of professionals rank "talent brand" as a top factor when choosing a job (view this post for the definition of "talent brand"). Sharing photos from your mobile device will be a simple way to continue to elevate your talent brand within your LinkedIn network as you share the details of what it's like to work for your organization.
Do people engage with photos on LinkedIn? I don't have a formal study to support this, but personally, I've noticed that I receive much greater engagement with photos I post on LinkedIn than I do with text only status updates. Below is a photo I shared recently that received almost 600 likes.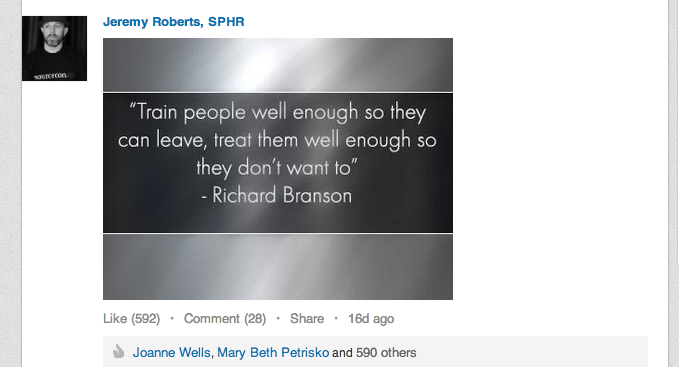 Now, go take pictures of your office, upload selfies with the hiring managers you're recruiting for, and give your network an inside look at your organization.
image credit: bigstock