Next week, when LinkedIn is likely to begin offering its stock for sale, the 8-year-old company could find itself worth $3.3 billion.
According to filings with the Securities and Exchange Commission, a total of 7.84 million shares will be offered to the public at a price estimated to be somewhere between $32 and $35 a share. Of the total, LinkedIn will sell 4,827,804 shares, while existing stockholders, the venture capital investors, will sell the balance.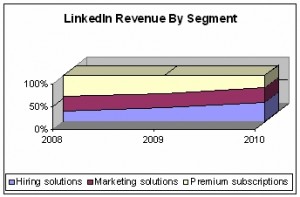 At the upper end of the price estimate, LinkedIn would be worth more than half again as much as Monster. (Stock held by the founders, other early investors, and executives, totals 89,547,185 and is factored in the total company valuation.) Monster's market cap today is $2.04 billion.
Now why compare to Monster? Because increasingly LinkedIn is emerging as a social networking job board.
The company's updated prospectus — it first filed for an IPO in January –shows its revenue from recruitment services has been steadily growing over the years. Last year, recruitment accounted for 42 percent of the company's total revenue.
As recently as three years ago, recruitment was the smallest share, behind revenue from premium subscriptions and marketing products. In 2008, recruitment was 22 percent of total company revenue.

In the prospectus supplement, LinkedIn noted that its Corporate Solutions — the recruitment product bundle sold to employers — increased 85 percent from 2008, when the product launched, to 2009. Between 2009 and 2010 the number of Corporate Solutions customers increased 144 percent. At the end of 2010, LinkedIn said it had 3,900 Corporate Solutions customers.
LinkedIn also reported that it turned a profit last year, earning $15.4 million on revenue of $243 million. Its prospectus suggests that it expects to be profitable this year, noting that it doesn't anticipate using any of the capital from the offering to fund operations. Instead, LinkedIn will use the money "primarily for general corporate purposes, including working capital, sales and marketing activities, general and administrative matters and capital expenditures. We may also use a portion of the net proceeds for the acquisition of, or investment in, technologies, solutions or businesses that complement our business…"