LinkedIn served up a double surprise today, reporting it grew revenue in the first quarter by 101 percent, and buying content sharing site SlideShare.
Minutes after the markets closed in New York, LinkedIn made the two announcements, sending its already pricey shares up almost 10 percent in after-hours trading. The stock, which closed the day at $109.41, hit $119.80 after the reports were out.
LinkedIn said the SlideShare purchase is worth about $118.75 million, to be paid in a combination of stock and cash. Like LinkedIn, SlideShare is widely used by businesses and professionals, who use it to host their PowerPoint, documents, and other presentations. Users upload their materials, which can then be shared, and viewed in much the same way videos are on YouTube.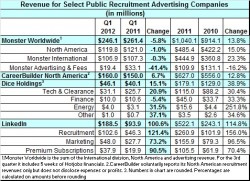 "Presentations, said LinkedIn CEO Jeff Weiner, "are one of the main ways in which professionals capture and share their experiences and knowledge, which in turn helps shape their professional identity." The SlideShare acquisition aligns "perfectly with LinkedIn's mission."
For the first quarter, the company reported earning 15 cents a share (after allowances for certain exclusions) on revenue of $188.5 million. Analysts were expecting 9 cents a share and revenue of $178.58 million. It was the seventh straight quarter in which revenue doubled.
Employment is the company's cash cow, accounting for 54.4 percent of the first quarter revenue. The $102.6 million attributed to recruitment and job postings is 121 percent higher than in the same quarter last year. In the first quarter, LinkedIn added 1,200 new customers.
During a conference call with investors and financial analysts, Weiner and CFO Steve Sordello said employment is the company's fastest growing sector and that mobile usage continues to grow more quickly than other services. Weiner said during the question-and-answer period that mobile users are also increasing their engagement with the site.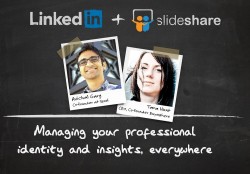 The SlideShare purchase seems intended primarily to grow user engagement. With 29 million unique monthly visitors and some 7.4 million presentations, SlideShare's reach is broad. The presentations are embedded in more than 1.4 million Internet sites, and have been shared across LinkedIn and other social networks.
Primarily a free site with a premium service level, SlideShare is not expected to add much to LinkedIn's overall revenue. Sordello told analysts its revenue contribution is "really immaterial."
Looking ahead, Sordello raised LinkedIn's revenue expectations, saying it anticipated revenue of $880-$900 million for the year. For the current quarter, revenue is projected in the $210-$215 million range. That takes into account, he said, the "worsening condition of the European market."
Global operations are becoming an increasingly important part of LinkedIn's success. While the U.S. provided $121 million of the company's income, Europe accounted for $43 million, which was more than double the $20 million in Q1 of last year.
Weiner said 61 percent of LinkedIn's new members — it now has 161 million total — come from international markets.