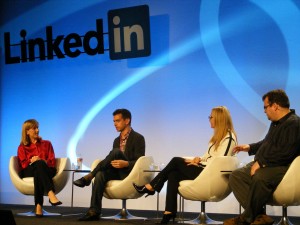 Corporate recruiting and sourcing leaders gathered from around the world this week for LinkedIn's very first user conference in San Francisco. LinkedIn's VP Strategic Alliances, Ellen Levy, led a panel of social media stars at the LinkedIn Talent Connect conference this morning discussing social media's roots and where they believe it is going in the future. Jack Dorsey, co-founder and Chairman of Twitter and now CEO at Square Inc., Reid Hoffman, co-founder and Chairman of LinkedIn, and Jennifer Aaker, professor of marketing at Stanford University shared thoughts on recruiting and social media and what the future holds as the two develop better relationships with one another.
LinkedIn's Talent Connect conference is a gathering of its global "Recruiter" customers to learn about recruiting strategies and techniques from each other as well as hear from many of LinkedIn's own staff on how to get the most out of the LinkedIn Recruiter product. LinkedIn launched its Recruiter product in March of 2008, and at the conference this week its customers were represented by 350 companies and five countries in attendance.
The topic of the morning was how social media has been changing the way we communicate, and thus how we can reach out and recruit candidates. There were many references to the global scope of social media communication. Dorsey shared that Twitter has over 175 million users, and that 65% of them are outside of the U.S. Japan has gained a lot of traction recently as well as Europe and South America. Aaker cited a touching story about a former student who was diagnosed with leukemia and, through global social media outreach, was able to find a bone marrow donor to treat the illness. As a result, a bone marrow donor network was established and to date, 500 individuals have been connected with matching donors. Global communication has been opened through wider use of social media, and as a result, interest in global talent attraction is growing.
One of the big questions addressed by the panel was the changing scope of work/life balance. Hoffman said that people are learning how to live and work in an online-networked world. No longer are the lines dividing work and home clearly defined, and as such, it affects our recruiting strategies. Aaker shared that people are now thinking more holistically about potential employers. She said, "There's less pulling apart of what makes them happy as a person versus what makes them happy as a worker."
Over the course of time, social media has evolved from purely an entertainment use to that of increased work productivity. Hoffman said that finding the right information and intelligence is key for this to occur. We have evolved from data access alone being a competitive advantage to the advantage being in retrieving and appropriate use of the data being the advantage. There is way too much information available to us today through social media channels. As sourcing professionals, this is where we shine. Our ability to filter through the massive amount of data that is available to us today and provide relevant information and key intelligence is one of our value propositions as sourcers.
In fact, there was a lot of discussion this morning on the importance of the appropriate gathering, categorization, and use of data that is being provided through social media channels. During the CEO keynote earlier in the morning, LinkedIn's CEO, Jeff Weiner, said that the importance of a good balance of mass and quality within LinkedIn networks specifically, even though this applies more broadly in all networks. He said that the more information you have, the more opportunity you have to filter the appropriate things, and the more value you can generate. As sourcers, we have the ability to do this well, and it has always been said that data is worthless unless you know how to use it properly. The larger the network, the more likely we're able to find what we need. However – that is only true if we know how to filter and find what we need. Sourcing has a fantastic opportunity to lead the charge with these areas – we are data professionals and should be the subject matter experts in our organizations when it comes to retrieving and using data.
Topics throughout the remainder of the conference will cover areas including global sourcing and talent acquisition, college recruiting strategies, metrics, referral hiring, and tactical use of various LinkedIn Recruiter features.