This is a big week for the job board industry. Monster reports its second-quarter results this morning before the market opens, and LinkedIn reports later, after the market closes.
The two couldn't be more of a contrast. Wall Street expects Monster to have earned six cents a share for the quarter, a drop of a third from last year's nine cents a share in earnings. LinkedIn is expected to report earning 16 cents a share, a 60 percent increase over last year.
The headline on a Motley Fool post says it all: "Why LinkedIn Might Kill It Tomorrow."  Why? It's because "LinkedIn's Hiring Solutions business is on fire." Continues writer John Reeves: "In the first quarter of 2012, Hiring Solutions grew 121% to $103 million. This accounted for 54% of LinkedIn's revenue, and that percentage has been steadily climbing over the past few quarters."

A quick look at the accompanying chart shows how much employment revenue means to the company. In 2008, recruiting-related revenue was the smallest share of LinkedIn's revenue. In 2011 the $261 million in recruitment revenue was just over half the total revenue.
Monster's second quarter is expected by analysts — and by the company, based on its estimates of a few months ago — to be below last year and lower, even, than the first quarter of this year. The average of analyst estimates is for Monster to report revenue of $243.3 million. Last year, Monster's revenue was $269.7 million.
(Dice Holdings last week reported earning a penny more than analysts expected on revenue under what they projected. However, its stock was bid down after the company warned that revenue would be depressed through the end of the year. CareerBuilder is privately owned and reports only its North American revenue.)
Why is LinkedIn soaring, while Monster is stalling? It's not because Monster — and other, traditional job boards — don't deliver. They do. In study after study job boards come out on top of all other sources of hire except for referrals. In what may the most extensive survey, SilkRoad found all the major job boards, plus others, were a better source of hires than LinkedIn.
If you're looking for those passive, needle-in-a-haystack candidates, LinkedIn is certainly more promising a source, but that doesn't explain why Wall Street values it at 13 or 14 times what it does Monster. Some of it is perception: LinkedIn is a business network in the social media mold. Monster is, well, old school.
There's more to it than that, of course. Monster is slow to move and parsimonious in its marketing and promotions, particularly in the U.S. As a percentage of revenue, Monster spent less overall on marketing last year than it has in the last three. The increase in the North America spend was due to its agreement with Yahoo, for which Monster powers the career channel as part of its HotJobs acquisition.
But the issue isn't that Monster doesn't promote itself; it's that it has a real challenge when it comes to LinkedIn. The latter gets plenty of positive mentions in the recruiting industry, and from professionals who are joining at the rate of almost two a second. Overcoming the positive viral word of mouth is no easy job.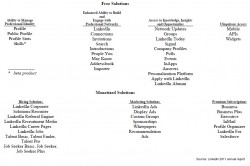 Another part of the equation is Monster's deliberate (stodgy?) approach to development. Its BeKnown is a case in point. Launched in June last year, the app allowed Facebook users to participate in a career network. The app was Monster's answer to BranchOut. As the latter flourished, in large part because of its mobile services, BeKnown was pretty ho-hum. (BeKnown added a mobile version months before BranchOut, but got hardly a bounce out of it. BranchOut added 2 million users a week after it went mobile.)
Remarkably, it took Monster almost a full year to do the obvious, which was to leverage its tens of thousands of jobs. In May, the company finally integrated BeKnown with the job listings on Monster.com.
LinkedIn, meanwhile, keeps adding new services and functionality. When it comes to technology if you're moving forward, you're moving backward, to paraphrase Cong. Bill Owens. A week ago, for example, LinkedIn announced a major integration with Outlook, the most commonly used email program in the world. Previously, LinkedIn partnered with Microsoft to enable Outlook users to get photos and profile information for every LinkedIn user sending an InMail. The latest step is a complete integration that launches with the next Outlook version.
Today, LinkedIn offers recruiters a wide variety of services, many similar if not all but identical to what Monster (and other job boards) offer. These, the company has built or introduced in the space of just four or five years. And for that, investors reward LinkedIn with a market value approaching $10 billion. Monster's is $811 million.
It says a lot about what investors think when the biggest improvement in Monster's stock price came after the company announced in February it was for sale. Since then, the stock is off about $2.50 a share, due, in some part at least, to what appears to be a lack of interest. Nevertheless, analysts believe a sale of all or part of the company is still likely; a majority have buy recommendations out with an average target price of $11.64.