LinkedIn knocked it out of the park again, reporting third-quarter profit on revenue of $252 million. Not only was that 81 percent over last year's revenue, it blew right through analysts' average estimate of $244 million.
The remarkable revenue growth swung the company from a third-quarter loss last year to earnings of 2 cents a share. After adjustments for certain non-operating expenses, LinkedIn earned 22 cents a share., which is almost four times similarly adjusted per share earnings last year.
The results, released after the stock market closed, sent LinkedIn's shares up more than $8 a share, in after-hours trading. It closed in New York down slightly on the day to $106.85.
Revenue from recruitment alone nearly doubled, growing 95 percent from last year to $138.4 million. It's the largest share of LinkedIn's revenue, accounting for 55 percent.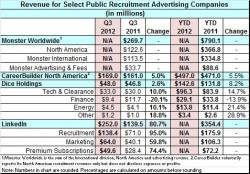 CFO Steve Sordello said during an investor and analyst conference call that the company now has about 13,700 contract customers; many of them buying three or more products. He also observed that direct — field — sales are now bringing in 57 percent of the revenue.
For the current quarter, Sordello said the company expects revenues of $270 million to $275 million. And full-year revenue of $939-$949 million. This compares to analyst estimates of $272.3 million for the quarter and $933.2 million for the year.
Both he and CEO Jeff Weiner also noted the growth in user engagement. Weiner said LinkedIn membership grew at nearly two members a minute during the quarter, which gave it 187 million total members. With 110 million monthly visitors, and 8.9 billion monthly page views (down from the second quarter, but almost 20 percent higher over 2011), Weiner said, LinkedIn was among the top most-trafficked sites in the world.
"Members," he observed, "are becoming increasingly active on LinkedIn." Growing the level of user engagement is a key leg of LinkedIn's strategy, and the focus of much of the product development and content growth. During the quarter LinkedIn redesigned the homepage, launched a skills endorsement, and introduced a notifications alerts for members. In addition, LinkedIn now offers blog posts by top political and industry leaders, and the ability to follow them.
All of this has increased traffic and quadrupled the number of comments posted since June.
Meanwhile, mobile traffic is growing, and soon, Weiner and Sordello said, services and ad delivery for iPad users, now in beta, will be released generally. Although more mobile traffic some via smartphones, development for those smaller screens will take more time.
With LinkedIn's financial release today, only Monster is left to report its third-quarter numbers. Historically, the company has done that by now, usually on the fourth Thursday of October. Monster, which hasn't explained the delay, has scheduled its release for November 8.