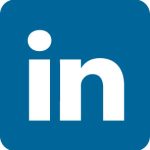 This morning, at its first ever user conference, Talent Connect, LinkedIn revealed two brand new product offerings to its "Recruiter" customers: Jobs For You and Referral Engine. David Hahn, LinkedIn's VP of Product Management, and Deep Nishar, LinkedIn's VP Products & User Experience, shared details of the new offerings with attendees as well as the story of how the new Jobs For You product came to be.
You may have noticed recently that under the LinkedIn Jobs tab, there are listings under a section called "Jobs you may be interested in" that offer jobs that are specifically targeted to you, the end user. Here is a screenshot of my personal job offerings: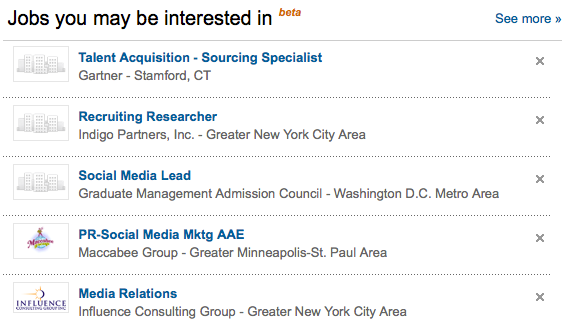 Pretty good, if you ask me. Based on my experience and the keywords I've listed in my profile, these jobs are pretty spot on for things I'd be interested in, though the AAE job would be a bit junior (a PR AAE is typically an entry level or one-year experience role). LinkedIn started beta testing this and saw lots of success with clickthroughs from active job seekers. They decided to see what would happen if they put it on the home page, and they discovered that they were able to reach a whole new group of individuals – passive job seekers who were not actively looking for jobs, but when this offering was placed in the home page, they clicked through.
Jobs For You
Having found this to be successful with bringing a whole different set of eyeballs, LinkedIn took things one step further, which is where it's at today in announcing the new Jobs For You. This new product offering will allow companies to share jobs with individuals conducting normal web searches, using information from their LinkedIn profiles to target them with specific, relevant opportunities.
While the concept of delivering relevant job opportunities is not new, LinkedIn has taken this to a new level. Others who have explored this idea  have looked at data based on search activity, thus targeting active job seekers who have run searches indicating that they were specifically looking for jobs. Another method of targeting job seekers has been by using geotargeting. While using this approach will get you geographically targeted individuals, and often passive job seeker traffic, they may not necessarily be the "right" talent. They're just targeting anyone and everyone within a specific location. With the data that LinkedIn has gathered from individual profiles, this new Jobs For You ad module will deliver targeted and relevant opportunities to individuals based on the information in their LinkedIn profile. (as an aside, this means it's a good time to fill our your LinkedIn profile completely!)
In case you were wondering, there are no privacy issues here – LinkedIn will not be selling your profile data to any third parties in order to accomplish this. As simply as it can be explained, LinkedIn reads a user cookie from your computer and applies it to the code in the ad module that will show up in your search results, on a career web page, or wherever else a company wants to place this coded ad. This cookie is unique to you and provides the LinkedIn ad with the information it needs to deliver a list of relevant opportunities from the company that purchased the ad. And of course, LinkedIn users will be able to opt out from this if they don't want to participate. But who wouldn't want an occasional interesting opportunity to be tossed their way?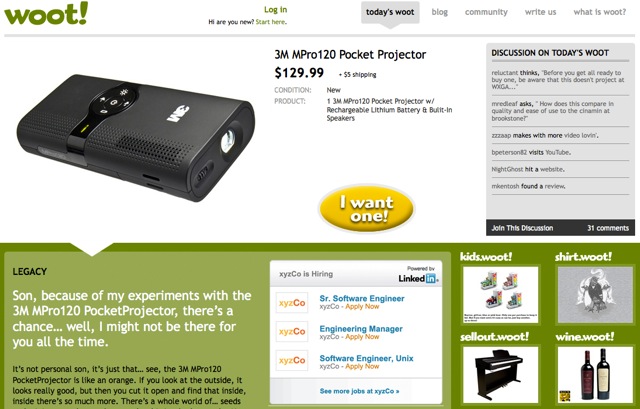 To recap, Jobs For You will work both on LinkedIn as well as offsite. From what we know at this point, pricing is a CPM model. You can find out more detail info by visiting LinkedIn's Talent Advantage website. This is a pretty interesting product, because from a recruiting perspective it takes targeting passive candidates to a whole new level.
Referral Engine
The second product that LinkedIn announced this morning will remain in beta until the first half of 2011, but it will make some waves in the area of employee referrals. This product, called Referral Engine, is aimed to assist companies in hiring talent from their employees' referrals by involving more employees in making referrals, and helping them make more quality referrals. One of the issues with receiving employee referrals is that sometimes, employees will refer someone for a job just because they're a friend, or they think perhaps they might be a fit even though they probably aren't. With Referral Engine, when a company posts a new job through LinkedIn, LinkedIn will make suggestions to employees tied to that company of individuals within their networks that would be a good fit for that job, and it will ask them simply if they wish to refer any of those individuals. Essentially, Referral Engine helps employees to "pre-screen" their own network in order to make quality referrals.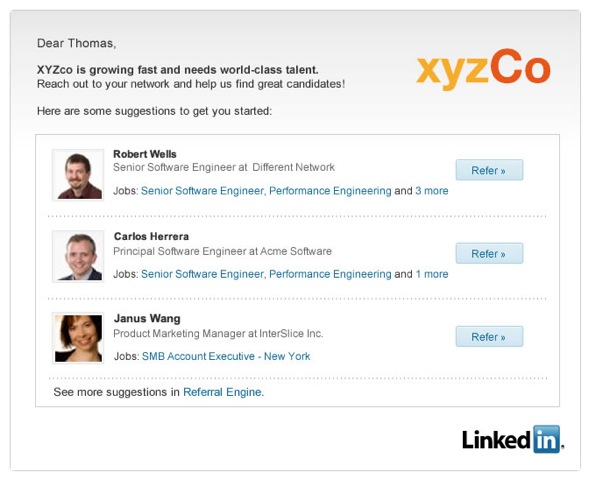 The even better part about Referral Engine is that it will be a free service to "Recruiter" customers once it is rolled out. Obviously, the more jobs posted by the company, the better this service will work. But this new product will really make a difference with employee referral programs and getting more employees involved in making referrals from their networks. It also opens another door for LinkedIn (or anyone, for that matter) to offer training to companies and whole teams within companies for using LinkedIn, getting employees involved, helping them to thoroughly fill out their profiles, etc.
You can learn more information about these two new offerings from LinkedIn on its Talent Advantage website.