LinkedIn announced enhancements to its InMail product and mobile job search functionality today. "The introduction of these two features reinforces our commitment to bring job seekers and companies closer together making LinkedIn a destination for all things jobs," the company said in a release.
Here's a breakdown of the two updates:
InMail Analytics Report
Driven by customer feedback, the new InMail updates look to improve recruitment strategies. Primarily, companies can see which spotlights get the highest response rates, as well as understand which candidates at what companies are responding better than others. Also, users will be able to find out which InMail templates perform best.
Other improvements to the analytics report include the following, according to LinkedIn:
A more simple and intuitive user interface
Actionable insights to troubleshoot areas and improve performance
Response rates for candidates at different schools, seniority
Hourly updates to the dashboard
Benchmark data so recruiters can compare their performance to industry benchmarks
"We strive to make outreach simple and effective," the company added. "The new InMail Analytics Report, which will use insights from candidate segments, helps recruiters better understand performance, improve response rates, and have more strategic, data-driven conversations with stakeholders."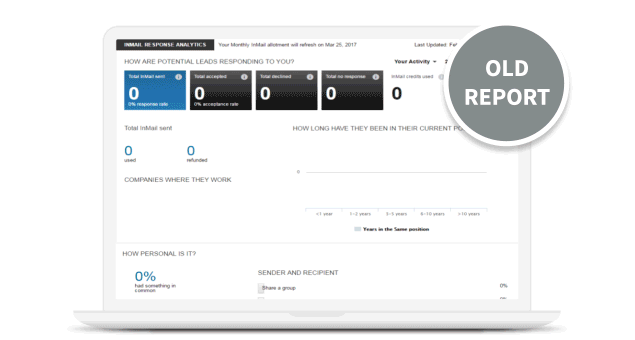 In light of this update, LinkedIn expects customers to see an increase of 30 percent in identifying job candidates who are more likely to respond to InMails.
LinkedIn expects this increase to occur in large part to knowing which mail templates are performing the best, as well as now being able to learn more from your team regarding which messages outperform others.
LinkedIn hopes this information will help empower employers with internal leadership. "Your communication with the business is a thousand-fold better," said Eric Yeager, engineering recruiting at Pandora. "When you can sit down with your leadership and come to them with real data, you're able to show them what's working and what's not."
Mobile Job Search Matches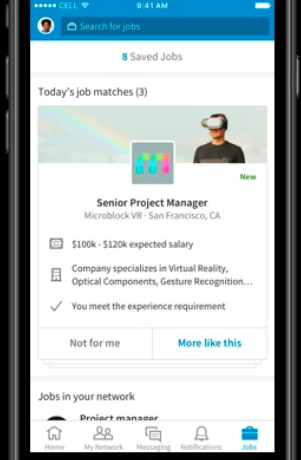 The growth of mobile activity around job search has been a pleasant growth engine for LinkedIn, translating into 20 million members viewing jobs each week after adding a separate Jobs tab to its native mobile app on iOS and Android.
As a result, there has been a 50 percent increase in people perusing jobs, and more than half of LinkedIn's members are using mobile devices to browse the platform's 10 million job openings.
Mobile job search updates include:
A daily list of personally curated matches right to people's Jobs tab on the mobile app
Insights aligned to personal preferences, salary highlights, skills, and location.
Real-time feedback from members about a job match, and using machine learning, improved matches in the future
Interestingly, users on mobile devices tend to browse opportunities instead of tapping in a search box and typing in queries. LinkedIn said users tend to surf opportunities when they're killing time, as opposed to actively seek them out. As a result, LinkedIn wants to improve the content these people see.
Today's Job Matches on the LinkedIn mobile app will soon be a curated list of personalized results that LinkedIn hopes will increase the visibility for jobs and make discovery more relevant and seamless, as well as more passive. It's more recommendation engine than it is search engine.
InMail Analytics will be available on Recruiter starting today and Today's Job Matches will be rolling out in the coming weeks.