Breaking news coming out of the West Coast this morning as Microsoft has announced that it is acquiring LinkedIn, the professional networking site with some 433 million users, for $26 billion, or $196 per share, in cash. The transaction has already been approved by both boards. The news sent shockwaves through the recruitment industry, which has been both a harsh critic and user of LinkedIn's products and services since its inception.
Shares of LinkedIn have skyrocketed 48 percent after the announcement, while Microsoft's stock was down more than three percent at the time of this release. Trading in Microsoft had been halted briefly for news pending before the announcement.
According to the press release from Microsoft, LinkedIn will retain its distinct brand, culture, and independence. Jeff Weiner will remain CEO of LinkedIn, reporting to Satya Nadella, CEO of Microsoft. Reid Hoffman, chairman of the board, co-founder and controlling shareholder of LinkedIn, and Weiner both fully support this transaction. The transaction is expected to close this calendar year.
"The LinkedIn team has grown a fantastic business centered on connecting the world's professionals," Nadella said. "Together we can accelerate the growth of LinkedIn, as well as Microsoft Office 365 and Dynamics as we seek to empower every person and organization on the planet."
"Just as we have changed the way the world connects to opportunity, this relationship with Microsoft, and the combination of their cloud and LinkedIn's network, now gives us a chance to also change the way the world works," Weiner said. "For the last 13 years, we've been uniquely positioned to connect professionals to make them more productive and successful, and I'm looking forward to leading our team through the next chapter of our story."
The deal is expected to close this calendar year and is subject to approval by LinkedIn's shareholders, the satisfaction of certain regulatory approvals and other customary closing conditions.
"Today is a re-founding moment for LinkedIn. I see incredible opportunity for our members and customers and look forward to supporting this new and combined business," said Hoffman. "I fully support this transaction and the Board's decision to pursue it, and will vote my shares in accordance with their recommendation on it."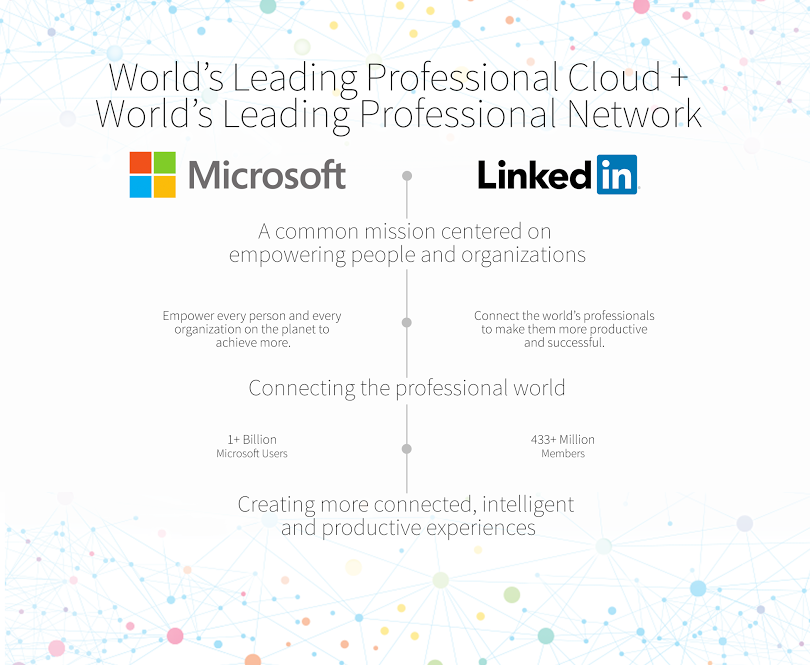 Microsoft will finance the transaction primarily through the issuance of new indebtedness. Upon closing, Microsoft expects LinkedIn's financials to be reported as part of Microsoft's Productivity and Business Processes segment. Microsoft expects the acquisition to have a minimal dilution of ~1 percent to non-GAAP earnings per share for the remainder of the fiscal year 2017 post-closing and for the fiscal year 2018 based on the expected close date, and become accretive to Microsoft's non-GAAP earnings per share in Microsoft's fiscal year 2019 or less than two years post-closing. Non-GAAP includes stock-based compensation expense consistent with Microsoft's reporting practice and excludes expected the impact of purchase accounting adjustments as well as integration and transaction-related expenses. In addition, Microsoft also reiterated its intention to complete its existing $40 billion share repurchase authorization by Dec. 31, 2016, the same timeframe as previously committed.
LinkedIn released a video on the acquisition featuring Nadella and Weiner earlier this morning.
https://youtu.be/-89PWn0QaaY
Microsoft and LinkedIn will host a joint conference call with investors on June 13, 2016, at 8:45 a.m. Pacific Time/11:45 a.m. Eastern Time to discuss this transaction. The call will be available via webcast at https://www.microsoft.com/en-us/Investorand will be hosted by Nadella and Weiner, as well as Microsoft Chief Financial Officer Amy Hood and Microsoft President and Chief Legal Officer Brad Smith. The presentation for the call is available on the Microsoft News Center.