Monster took another step last week in its drive to become more social adding a "friends" connection to the thousands of listings on its jobs board.
Almost a year after launching BeKnown, its Facebook-based business network and competitor to BranchOut, Monster is now enabling its network members to see who they know at companies offering jobs on Monster.com.
It works just as you expect: Job seekers searching Monster are invited to "See who you know." A click pops up a list of their BeKnown connections who work at the company. Those not already on BeKnown get an invitation to join, needing only a Facebook login.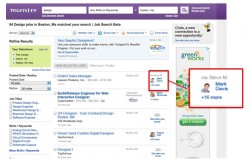 As Tom Chevalier, Monster's director of product management, explained during a demo a week ago, the integration now enables job seekers to connect with their friends and associates, engaging them in a job "conversation starting right on Monster."
The advantage for job seekers is obvious. Getting inside a company with a personal connection and recommendation is so far superior to merely clicking the "Apply" button that it makes the latter only a little better than buying a lottery ticket.
For employers, the advantages aren't quite as obvious, but they are there. For one, employee referrals are generally better qualified, so it helps the cream rise to the top. It's also an opportunity for Monster clients to use their employees' connections to reach better candidates, something that Jobvite has now been doing for years.
Passive candidates, uninterested in job searching, might even be moved to get a referral by knowing who among their friends works at a company whose job they've been sent or stumbled across.
Certainly, this is a win for both job seekers and employers, especially since the feature costs nothing.
Monster, however, is likely to be the biggest winner here. It can only help its struggling BeKnown network, which is barely a blip compared to BranchOut. Monster won't discuss its BeKnown numbers, but AppData says it averages 10,000 users daily and 190,000 a month. BranchOut averages 420,000 a day and 11.5 million a month.
BranchOut's usage numbers have been declining for the last several weeks, while BeKnown's have improved slightly. Don't put too much weight on these changes. They cover only a short period so technical changes to counting methods and news events, such as BranchOut's $25 million in new funding and mobile app launch, can skew the picture. The longer view shows little growth for Monster, while BranchOut's growth curve is more hockey stick.
Chevalier said he expects that with the new integration, BeKnown's "growth trajectory will be pretty dramatic." Because joining the BeKnown network from Monster takes hardly any effort, he's probably right. How many will then go on to fully populate their BeKnown profile and add contacts will depend on how useful it is.
LinkedIn does the same thing for its job postings, telling you how many connections you have and specifically who can refer you. LinkedIn handles this automatically. Monster requires you to ask for the information.
It's a difference in philosophy, says Chevalier. Monster won't make connections automatically; it's a matter of trust, he says. BeKnown is "not extending beyond where we should be."