Another new job board… 'Not again!' I'm sure you're thinking. But this one might be worth checking out…

Just two weeks ago, a new company called FoneGigs was quietly launched by Eric Melchor. FoneGigs is described as "an online social community and job board that focuses on the Mobile Marketing Industry." FoneGigs reaches active job seekers via SMS, Twitter, Facebook, LinkedIn, and FoneGigs.com. There are other job boards that currently engage job seekers through these media, but one of the differences with FoneGigs lays with the man who started the company.
Eric's not what you'd consider a 'traditional' job board founder; he comes from an online marketing background, having worked with agencies in New York and having also worked in Bucharest on a client initiative over the last year.  Melchor started off by blogging about mobile marketing and sharing his directories of various mobile service companies, including mobile search engines, in-game ad companies, and mobile analytics. His plan through the blog and the directories was to build a solid base of interest before launching the job site, which was an end goal of his from the beginning.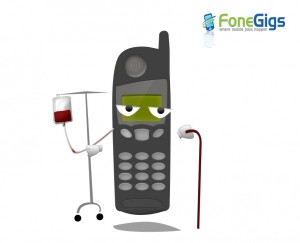 Even though he officially launched a couple weeks ago, yesterday was the first 'live' day as he threw out a contest – the "I have the Ugliest Phone Contest". He's invited the public to share pictures of their outdated mobile phones that their friends or they are still using on a daily basis for a chance to potentially win a prize. The scope of the prize is related to the number of participants – meaning if a low number of people participate, the prize will be a box of cereal. However, if many people participate, the prize can be an iPhone 4.0. (check out the link for all the rules)
Melchor has intended this first contest to target the candidate base, and when we spoke on the phone yesterday he shared that there would be a contest in the next few months geared specifically for recruiters. Keep your eyes peeled!
As for the website, it shows promise. It is search-friendly for both job-seekers and employers, though we'll have to wait until there are more candidate resumes available to see how valuable it will be from a sourcing standpoint. In the meantime, Melchor's directories offer some great industry information, and for those of you who source for digital, online, or mobile marketing professionals, they're a great resource for checking out different mobile companies out there.
Melchor hopes to take the knowledge he has gained as a mobile marketing professional and translate it into the recruiting world. As an actual practitioner with knowledge about the folks he is trying to assist in job search, I'd say he's got a good shot at this. FoneGigs is currently a side venture for him, but he hopes that it will become successful and convert into a full-time gig.
You can check out FoneGigs on: