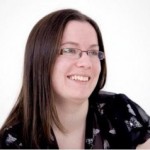 We are pleased to welcome Katharine Robinson, a.k.a. "The Sourceress," to the speaker lineup for SourceCon NYC! Robinson has really come onto the sourcing scene in a big way over the last couple of years and is the reigning "SourceCon GrandMaster." She will be presenting on a very interesting topic at the upcoming conference: Real World Sourcing. Have you ever wanted to get a little more out of attending and networking at events? You will want to be present while Robinson shares some examples of how she combines the science of online sourcing with the art of in-person networking.
Katharine Robinson is from the United Kingdom and is fairly new to the sourcing scene. She began sourcing in April 2008 with a small Executive Search business specialising in Renewable Energy. Since the beginning of 2010, she has been taking on freelance projects in sourcing and training. Her particular passion is the social web and how it augments the real social and professional worlds.
Robinson won a SourceCon challenge in January 2010 and then went on to take the title of SourceCon GrandMaster in San Diego in March 2010. She has also become a feature on the conference circuit in the UK. In September 2010, she spoke about sourcing at Recruiter Magazine's inaugural Smart Resourcing event and in October she spoke at Direct Sourcing, an event exclusively for in house recruitment professionals.
Over the next several weeks leading up to SourceCon NYC, we will be bringing you quick-hit interviews with the folks who will be presenting at the conference. This is a great way for you to get to "meet" the speakers and get a taste of what you can expect at the conference. We hope you'll join us February 8-9 in New York City!