Job boards are far from dead. For the second consecutive year, internal transfers and promotions were the primary source of hire. A quarter of the companies that have a contingent workforce have no idea how big it is. More than half the companies use social media exclusively or as a significant part of their direct sourcing programs.
And finally, and least surprising of all, referrals continue to be the leading source of external hires.
These are among the highlights of the 10th annual Source of Hire study by CareerXroads. Released this week, the study reports the results of a survey of 36 large, "well-branded" but anonymous U.S. companies who cumulatively employ 1.32 million workers and hired not quite 133,000 employees in 2010.
This is the 10th year that Gerry Crispin and Mark Mehler have conducted the survey to see where companies source their hires. As has been the case from the beginning in 2001, referrals from employees, vendors, alumni, customers, and other sources was the leading source of external hires. Last year, the surveyed companies reported 27.5 percent of their external hires came from referrals. The percentage has fluctuated only modestly over the years.
What is somewhat surprising about the referrals is that 51.7 percent of the responding companies said that up to 20 percent of their referral hires come from sources other than employees. On the other hand, 45 percent of the respondents said ALL their referral hires were recommended by employees.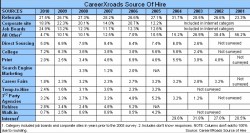 As strong as that number continues to be, job boards in 2010 took a big leap into second place, with almost a quarter of all external hires being sourced there.Last year, 13.2 percent of external hires came from job boards, a percentage more in line with the historic data.
Monster and CareerBuilder were the leading suppliers of hires, with 88.9 percent of the responding companies reporting they made at least one hire from Monster alone. (The similar stat for CareerBuilder was 85.7 percent.)
In past years, corporate career sites occupied second place, as a source of external hires. However, Crispin and Mehler have regularly observed that candidates come to corporate sites often by clicking on job postings on job boards or search engines.
The current report makes the same point. "Career sites are critical but they are more likely to be the end point, not the beginning or middle," write Crispin and Mehler. There's a diagram in the report from Jobs2Web, which, they note, "helps to illustrate that the 18.8% hires attributed to company career sites very likely came from somewhere else."
Getting a handle on the originating referral source is still a challenge for most companies in the survey. Two-thirds of them simply don't track their search engine marketing or optimization efforts.
The picture is much the same when it comes to their social media efforts. Most companies are able to identify candidates sourced through LinkedIn, but half can't when it comes to other social media sources, particularly Facebook and Twitter.
Nonetheless, 57.1 percent of the respondents reported that social media played an important part in their direct sourcing program. That was the percentage reporting they researched candidates on social networks. Asked to rank the impact of social media on various parts of their recruiting program, respondents said its influence was greatest on direct sourcing, college hiring, and on hiring from job boards.
The report contains dozens of other data points, including contingent worker hiring, RPO use, and talent community management. Even with the small number of companies reporting, the report is now a classic, identifying trends and offering pints of comparison for recruiters everywhere.
As Crispin and Mehler note, "The set of conclusions from our February, 2010 9th Annual SOH Report is still valid. The 2010 data presented here merely underlines the need to continue improving how we measure the interaction of multiple sources i.e. the channels of influence that result in a hire."