Two quick pieces of news from the world of search.
First off, Blekko has continued to innovate and has launched a new tablet-friendly app (and website) called Izik (pronounced EYE-zik). As Search Engine Watch points out:
When you search, results are broken down into categories, like Top Results, Images, Travel, Latest and other related categories that genuinely resemble Blekko slashtag suggestions. Quick Answer boxes answer a query leveraging Blekko's Dynamic Inference Graph.

The app itself is a web browser. When you click a result link, the page will open within the app. The Izik logo becomes your back button, returning you to your results.

Izik also makes good use of gestures as its interface. Some gestures are natural, others not so obvious.
I was able to download it on my iPad and it looked pretty slick.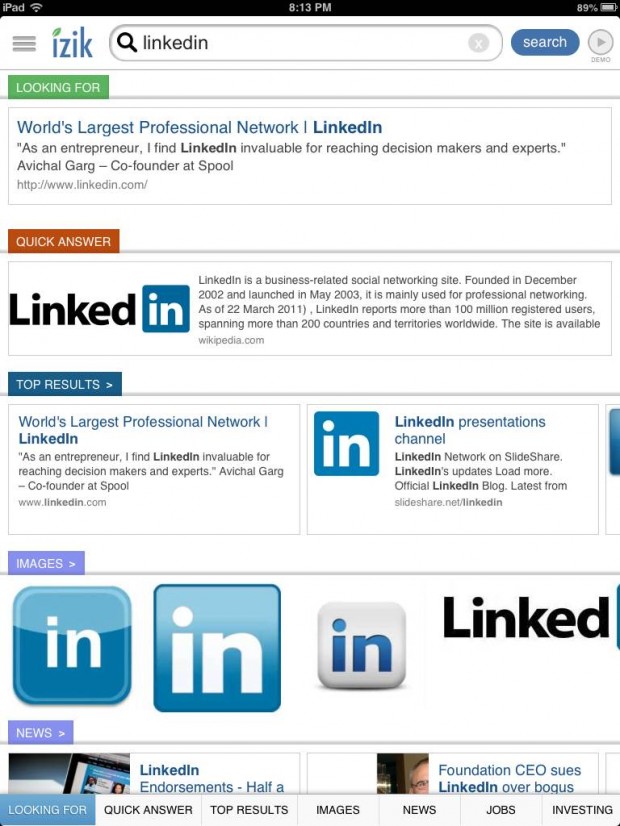 One of the neat things about Izik is just its presentation of all of the different types of searches into one screen. So if you search like I did for LinkedIn, you get everything listed on one page (news, images, jobs and even financial news). You can scroll different selections horizontally and expand sections for more detail. The layout and configuration is built for a touch screen as opposed to the Google search app which looks an awful lot like the desktop site.
It may not be super-relevant to sourcers but with so many people on the go, having a template for what a tablet-based search app should look like is a nice start.
Google Advanced Power Searching Class Opening
I wrote about the first power search class in the middle of 2012 and my feeling is that it wasn't that helpful for even some of the more inexperienced sourcers out there.
Google just announced this week that they will be doing an advanced power search course. Google said in the announcement:
Building on Power Searching with Google, Advanced Power Searching with Google helps you gain a deeper understanding of how to become a better researcher. You will solve complex search challenges similar to those I posed in my blog, or a Google a Day, and explore Google's advanced search tools not covered in the first class.

Oftentimes the most intriguing questions invite you to explore beyond the initial answer, and there's no single correct path to get there. When looking for questions that can't be solved with a single query, "search" can quickly turn into "research." Google Search offers a palette of tools to help you dive deeper into the web of knowledge.
The class runs online and is free. I'll be giving it a shot to see how deep it dives into some of the more sophisticated searching I know many SourceCon readers do on a daily basis.