Over the next few weeks I will be running a Finding Target Organisations series. A good way to start identifying potential target organisations is by first looking at your client's direct competitors. By targeting the competition, you achieve two things:
You strengthen your client's position in the market by acquiring highly relevant performing talent.
You weaken the competitor's hold in the market by targeting their best staff.
The impact of this approach varies, depending on the seniority and position of the role you're sourcing for and whether they have succession plans in place.
There are three main sources you can find your client's key competitors: Online Databases, Boolean Search, and People. Last week, we covered Online Databases.
The next installment of our 'Finding Target Organisations' series focuses on Boolean Search.
Boolean Search
For this week's example, we'll be assuming that our client is Accenture — a management consulting, technology services, and outsourcing company.
Related
Google's 'related' Search is a powerful advanced Boolean Search Operator that relies on Google's semantic technology.  In short, you harness Google's technology to find similar organisations based on keywords.
USE:
related:[target organisation's url]
EXAMPLE:
related:accenture.com
RESULT: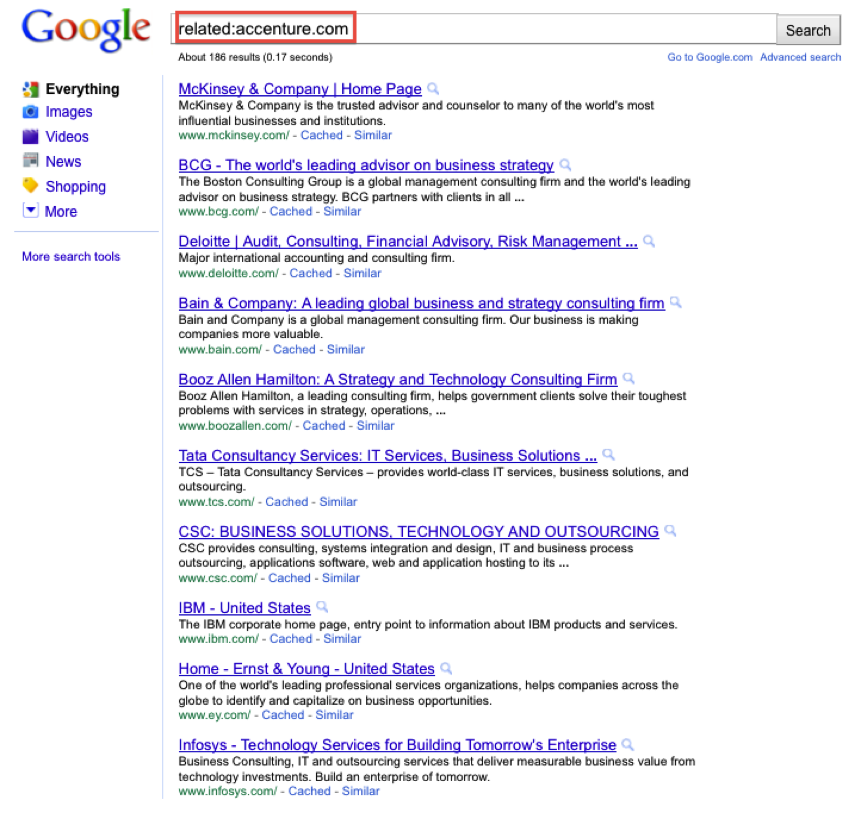 As you can see, this simple yet effective search has produced a host of similar organisations for which to further explore and target.
Competitor Search
Another technique is to search for articles and web posts which simply state your client's competitors. By using this method, you're not relying on any keywords – instead you are relying on market commentary made by industry experts.
USE: "competitor of [company name]" OR "competitors of [company name]
EXAMPLE: "competitor of accenture"
RESULT: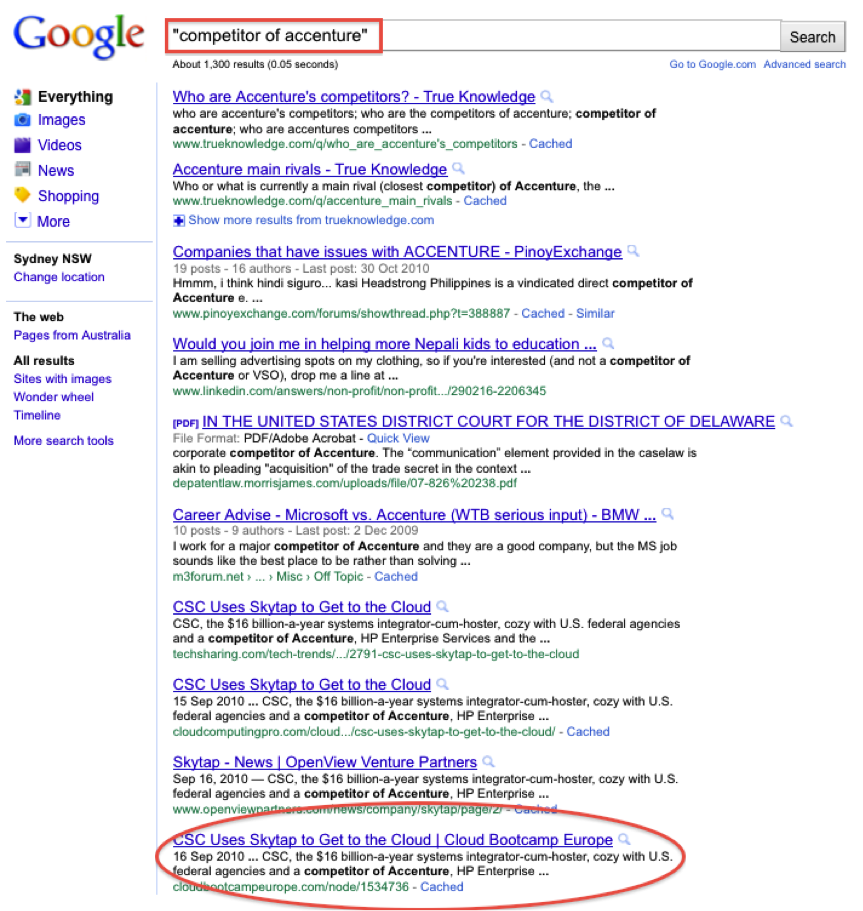 This particular search yielded a great article that highlighted some key competitors of Accenture: CSC, HP, IBM. See below.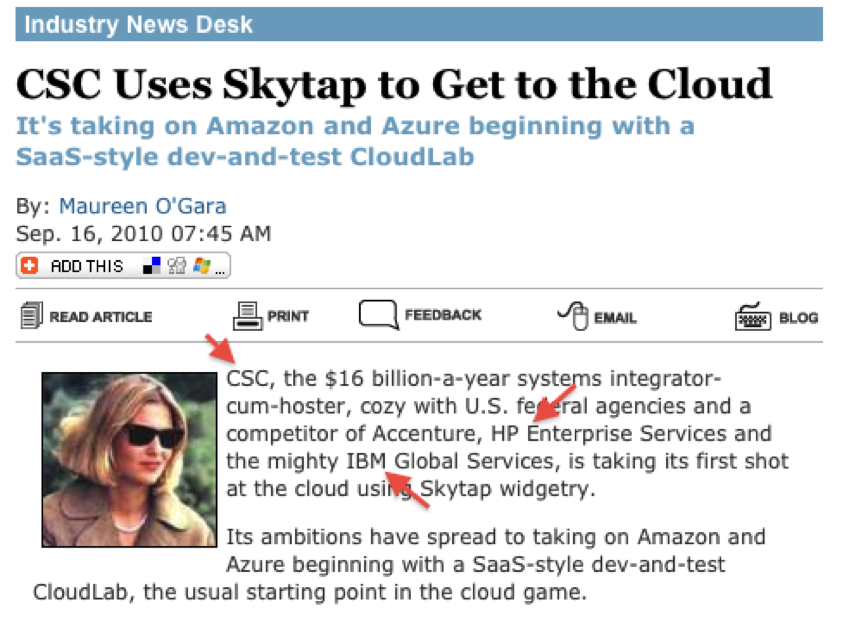 AROUND (NEAR)
A derivative of this approach is to utilise Google's AROUND operator. This operator allows you to specify how far apart two keywords can be in your search.
USE: competitor AROUND(n) [company name]
(where (n) is the maximum number of words between the two terms: 'competitor' and '[company name]'.)
If you're using BING (which I strongly suggest you also use) try the following string: competitor NEAR:5 [company name]
EXAMPLE: +competitor AROUND(5) Accenture
Note: I'm forcing the keyword "competitor" as there were a number of Google results with "competition" in it. In doing so I am also losing other potentially relevant terms such as "competitors". Have a play around using the (+) and (-) operator to force and exclude terms.
RESULT: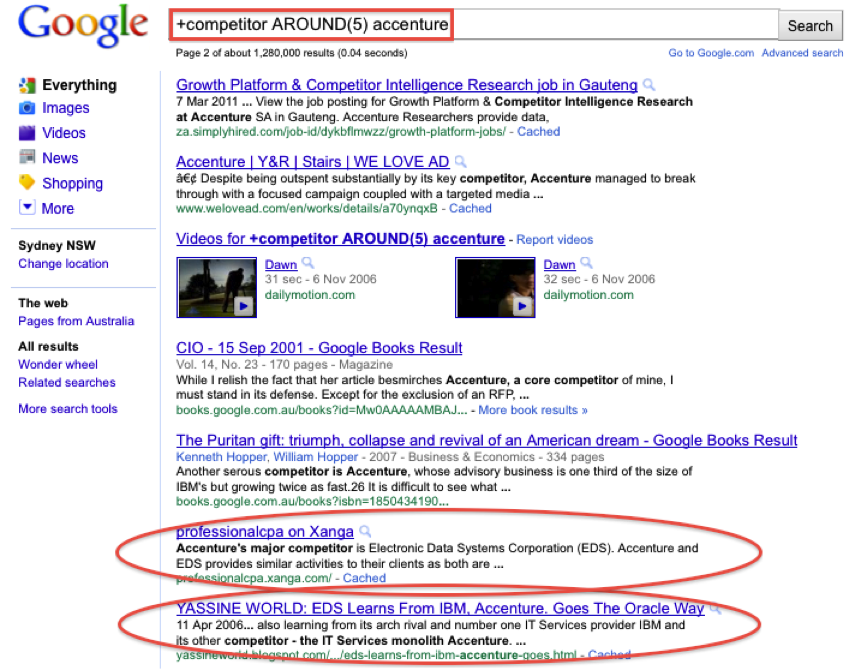 Again, you can see that Google is picking up some articles that name some of Accenture's major competitors. You can take this a step further by conducting similar searches on the companies that you find!
Brute Force
Another trick I like to use is to simple plug into your search engine a number of competitors (including your client), which you've found from the above methods, along with some appropriate keywords to describe the business. Using 'info:accenture.com' we're able to determine that Accenture is a 'management consulting' business.
USE: [company1] [company2] [company3] [description]
EXAMPLE: accenture ibm eds mckinsey hp "management consulting"
RESULTS: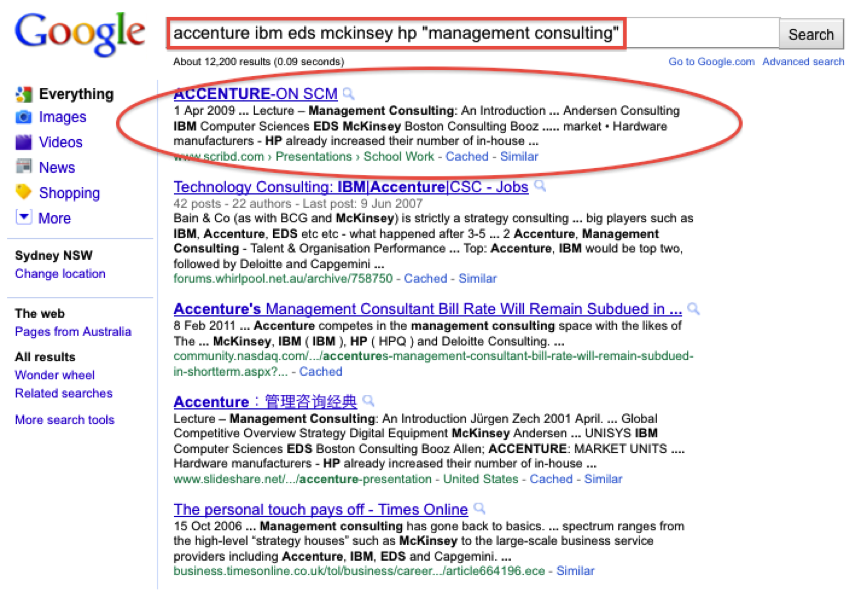 What you're trying to do is find directories or lists of 'management consulting' businesses. By clicking on the first result, we find the following table that lists Accenture's key competitors broken down by service: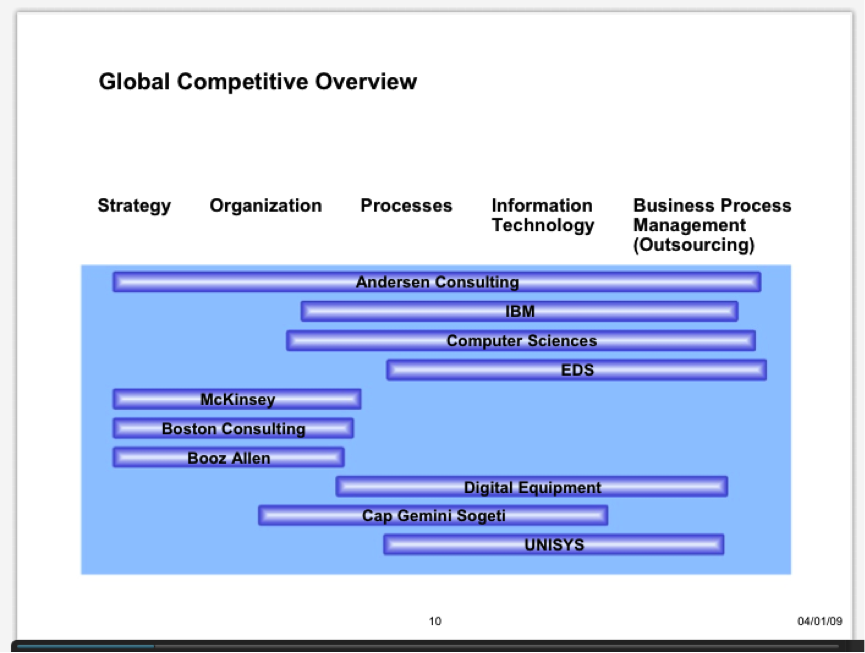 If you've got another slick way to use Boolean Search to find target organisations, let's hear it below.