There is gold on Reddit and not just the kind you get from other Redditors. While it's not uncommon to hear success stories of people hiring for technical positions using Reddit, what many people don't realize is what can be accomplished on Reddit for high volume or non-technical hiring. Those recruiters left this site mostly untapped and given how wide the exposure can be for non-exempt positions with Reddit's audience, that's a travesty. Let's make sure you are positioned for success.
First, we need to understand the basics of Reddit. Aside from being co-founded by Serena Williams' finance, Alexis Ohanian, Reddit is one of the most popular aggregator sites and online forums online with hundreds of millions of unique visitors every month and 25 million votes on a daily basis. The site is broken down into "subreddits" where people congregate to share review information on almost any given topic. All of these users may be a potential candidate for your opening. However, they are also fairly savvy and apprehensive of not being scammed into the latest "work from home schemes," so you need to be able to present a profile with positive karma and a message to match before you see tangible results
The first step is your profile and that is one of the single most important aspects of your Reddit persona. Keep in mind that other Redditors will go back to look at your profile and peruse your posts, comments and the history of what you have looked at on Reddit. It's important if you want to post jobs on Reddit to get out there and create a profile and start building yourself a profile. Select a username (that is not going to embarrass you) and start mingling!
The second step is building up your "karma." What is karma on Reddit? You acquire karma (and many say respect!) by other Redditors either liking a post that you originated or by liking a comment you made to someone else's post.
Here is a quick snapshot of a Reddit profile as an example:
Alright, so we have built your profile, and now you are out there liking comments that other Redditors are posting and handing out Karma right and left. It's time to think about how you are going to post your jobs on Reddit. Let's assume that you have jobs open in Kansas City that is non-technical. The most basic search is to look for subreddits that have already been created. Below is an example of those results.
As you can see, there are 868 Redditors subscribed to this subreddit. What does that mean? When you "subscribe" to a subreddit the latest post will come into view for them every time they look at their subscriptions. This particular one has an audience of 868 Redditors. Listed below is an example of the results that a subscriber would see depending on how they sorted the results.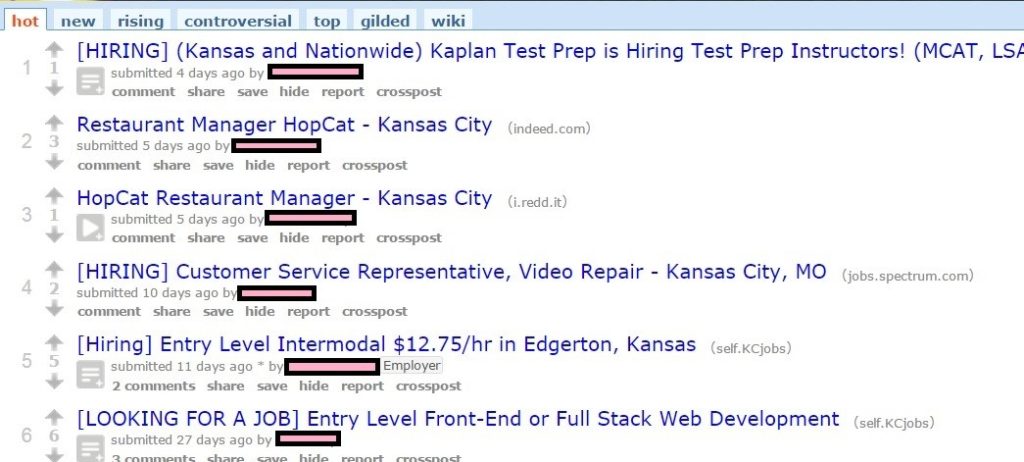 This is a good start. Now let's ask ourselves how do potential candidates find you? One great way to stay in touch is to "friend" the poster and if applicable, send them a private message. Redditors can also set up an alert based on your username so that they are notified whenever you post. You can do the same with your colleagues, and as a team recruiting strategy, you should all be friends with one another to promoting jobs/postings as well.
The next step that you should consider on Reddit is creating your own or company subreddit. Establishing yourself as an expert in your field is going to be a key contributor to passively attracting talent. Taking this step will make you a "Moderator" on Reddit. You will be responsible for managing the rules you establish and the content on the subreddit. Sound like a lot of work? Well, it can be and I that's why I recommend using the "Moderator Toolbox for Reddit" available google tool to simplify your world.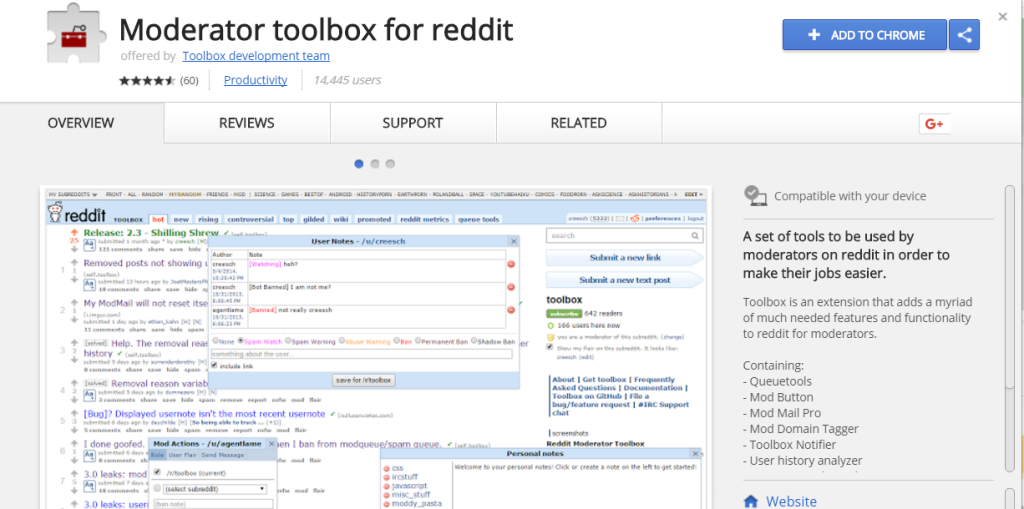 At this point, you will have a solid start on building your profile, searching for candidates and posting jobs on Reddit. A reminder that taking the time to build credibility on Reddit is as important, and perhaps more so, than the job you post. That reputation will help you in the next step of proactively sourcing candidates. As with every social media site, the most important take away from these tips is that you will only get out of Reddit as much as you put into it. You must be engaged and responsive to get results. People want to connect with real people, not job posting bots. As with any recruiting strategy, time needs to be made to engage Redditors on different subreddits and respond to posts and replies to your comments to gain visibility and credibility.Redditors want to get to know you and build a rapport, use that new relationship to pull talent you might otherwise have left untapped.