Tumblr has been my favorite blogging platform for a long time. It's actually where I have my personal blog. As a blogging platform, Tumblr doesn't have a lot of the "bells and whistles" of WordPress (SourceCon is on WP), but the simplicity is what makes Tumblr appealing.
Until recently, Tumblr users could only search for hashtags that had been added to a post. On 10/24, Tumblr announced that Tumblr Search has been rebuilt, which will allow users to search for keywords on all Tumblr posts (over 65 billion).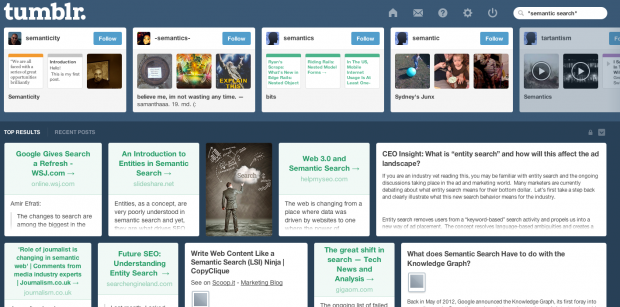 Who's on Tumblr?
The Pew Research Center reports that Tumblr users tend to be "Urban and Educated." Anyone browsing Tumblr for the first time will quickly notice a large number of technology oriented blogs focusing on the startup scene. So, if you're recruiting designers or internet startup types in New York or San Francisco, be sure to add Tumblr to your sourcing strategy. If your recruiting focus is mechanical engineers in Peoria, Tumblr is a fun place to explore, but probably won't yield you any new candidates.
New to Tumblr? Below are a few of my favorite Tumblr blogs…
Sourcing / Recruiting / HR Types on Tumblr
News / Media
Random Goodness
What are your favorite Tumblr blogs? Let us know in the comments.