Yesterday, Twitter announced the built in search functionality has been upgraded to include new search filters. Users can now conduct a keyword search for content and refine the search by:
Everything
People
Photos
Videos
News
We're bringing new filters to search on http://t.co/eNvqKTup1d: by videos, news, people you follow, and more. pic.twitter.com/vkxfkNf2ou

— Twitter (@twitter) January 29, 2014
The new filters haven't been rolled out to everyone (including my personal Twitter account). However, advanced search and filtering by photos has been available for some time.
As a review, the following search operators can be used on Twitter: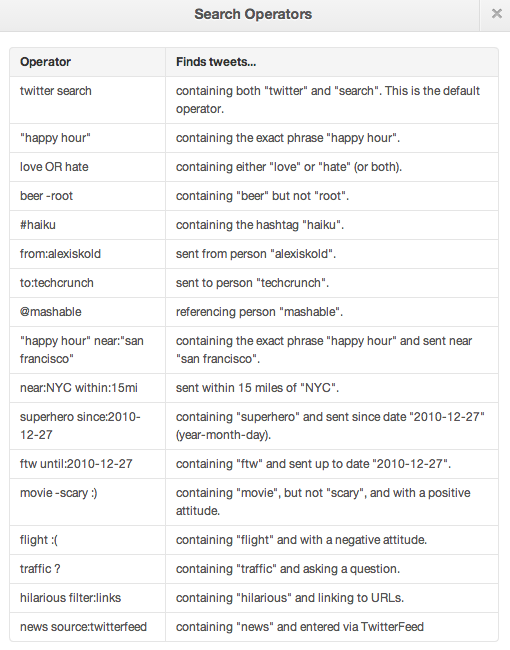 Finding People to Recruit on Twitter
The updated filters are nice, but I still recommend using Tactics Cloud to find Twitter users for recruiting purposes (previously TacticsHR). The company announced the rebrand earlier this week via email:
We will be closing down Tactics HR as of Feb. 14th, 2014 and all traffic will be redirected to Tactics Cloud.  Your existing Tactics HR account will be closed, however, all the features of Tactics HR will continue to exist in Tactics Cloud for free.  If you decide to sign up for Tactics Cloud, you may choose to opt in to one of our monthly subscriptions featuring:

Twitter Public Lists – search public lists on Twitter using keywords or Twitter handles
Discover the influencers of target groups
Find more candidates similar to the ones you like using the "more like these" reports
Export / Import lists to/from from Twitter or .csv
What do you need to do?

If you want to continue to use our service and leverage the lists you've already created in Tactics HR you'll need to:

– Go to tacticscloud.com and sign up for a new account

– If you have lists that you want to save and bring over to Tactics Cloud, you should export these lists to Twitter as private lists in Tactics HR and then you can easily import them into Tactics Cloud
image via bigstockphoto.com