Twitter, the microblog and communications tool we all know and love (loathe for some) has been putting forth a massive hiring campaign lately. Just check out their recuiting video:
http://www.youtube.com/watch?v=wU6epAkC9wg&feature=player_embedded
In June, Twitter co-founder Biz Stone was overheard saying that his company has about 200 employees and expects this number would double this year. Looking at the official Twitter Jobs website, it looks like any run-of-the-mill corporate career page – but a closer look reveals a page filled with interactive content like photos from Flickr, job opportunities powered by Jobvite (their recruiting software vendor of choice, apparently) and, naturally, employee testimonials from Twitter. Right now they are hiring for about 40 positions – mostly engineering, of course, but also opportunities with operations, HR, and sales and marketing.
Recently, Twitter hired Dan Coughlin to be its new new director of sales for the Eastern (U.S.) region. Coughlin was hired away from Facebook where he was the director of media sales, and prior to that he was with Yahoo, MarketWatch, and DoubleClick. Also, Twitter brought on Amanda Levy from Yelp as the new director of sales for the West (U.S.) region. The two will report to Twitter COO Dick Costolo, according to AdAge reporter Michael Learmonth. "Both will be charged with building out a team to move what Twitter is calling its Promoted Suite, or Twitter ads that today consist of promoted tweets and promoted trends," Learmouth said.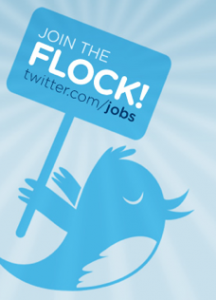 Some other significant recent hires for Twitter include:
Sean Garrett, VP of Corporate Communications (formerly co-founder of 463 Communications and with Bite Communications prior to that)
Ali Rowghani, CFO (formerly CFO and senior VP of strategic planning with Pixar Animation Studios)
Bob Lord, Manager of Network and Infrastructure Security (formerly Manager of Network and Infrastructure Security with Red Hat)
As sourcing professionals, we tend to focus on how we, or our clients, can best use this social technology to assist in our hiring practices. But how many times have we stopped to consider how Twitter itself leverages recruiting practices, search, targeting, and social technologies, including its own, to hire internally? I was able to grab a few minutes on the phone with Oliver Ryan, Director of Recruiting for Twitter, and boy do they have some cool stuff going on over there…
Stay tuned for part 2 of this article to learn more about what Twitter is doing with its recruiting!