In recent weeks many recruiting and staffing professionals (our peers) have been displaced, laid off, part of a reduction in force as tech companies and others right size. We've been through a roller coaster ride since 2020 – in the depths of the Covid-19 Pandemic when shutdowns caused a mini recession, only to bounce back in a free-for-all hiring spree and then to see the pendulum swing the other way to a hiring freeze/layoff scenario all in the space of less than three years. These Macro Level Economic issues are incredible to say the least, yet national unemployment still sits at a whopping 3.4%. Feels like a roller coaster right? (See Graph)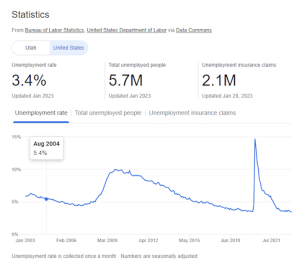 You would never imagine it given all the news lately which just goes to show how on the ball we must be as Recruiting and Staffing Professionals. You must have an exit strategy, a long term plan, and a vision of your career steps at all times – you must know who you want to work for now, in the future, and what drives you.
So, in an effort to help our peers, and to see the long term needs right in front of us, I am putting together an RX – a way to flip the script in your Job Search – this three part series on how to use your skills – skills you have, skills you understand and recognize.
Re-engineer the job search for yourself, and actually take your own recruiting and sourcing skills to create a long term game plan for your maximum success. Skills like these three topics which I will cover for the next three weeks:
Creating a Target List of Companies you want to work for – that you research using competitive analysis skills, and data gathering about those companies.
Finding people to talk to in order to advance your career = decision makers.  Finding the key contact information and identifying who best to talk to and organizing your search results. This while focusing on a systematic approach to your own Career and Job Search -> this means more leads and better opportunities.
Using your Sourcing and Detective skills to find commonalities and interests with your decision makers, use your 30 second elevator pitch to sell yourself and your skill set, (you know like you would a job to a candidate), and create conversations and leads that get you more opportunities for offers.
Most recruiters are going to be like every other job seeker out there – case in point – let's just take a few job leads on LinkedIn for recently posted Remote Talent Acquisition roles in the past 24 hours from February 7, 2023.
Job 1: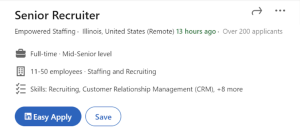 Job 2: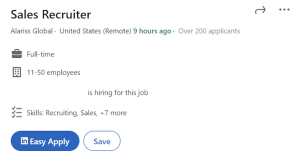 Job 3: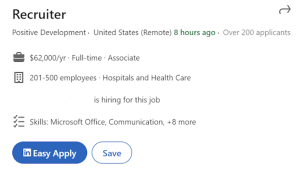 Notice a pattern here? The problem is that for every Remote job opening, (or even local for that matter), a Job Poster can put out a job and have 200+ applicants (1000+ in some circumstances) in a matter of hours.
With companies like Microsoft, Alphabet, Meta, Amazon, etc. and even small tech startups having laid off many of our own – it got me thinking what can a career minded recruiter do to stand out? How can you be above the fray and get massive opportunities to still come your way? For every layoff here's the exact reality – there's a number of true opportunities out there for you to take advantage of?
In this three part series we'll explore exactly that – how you can take control and drive your situation. This is a topic near and dear to my heart, as a Recruiter with nearly 18 years of staffing & HR under my belt, and a desire to "help our own," it's only fitting that after a hiatus of writing for nearly three years on SourceCon I should rev up my engines to put this "pay it forward" series of articles to you the Sourcing community.
We have your back – your peers. Every. Single. One. Of us. This is our tribe. And we should be helping our own. So with that I'm going to share some skills that have served me well. You may recognize these as simply "flipping the script" in the Recruiting game, to use these very skills you have mastered to put yourself in the bullseye and position yourself for when the time comes for hiring to ramp up again, as it inevitably will. You know the Baby Boomer generation? They are set to retire in droves – and when that happens who will companies need again? US!
Here's a quick snippet: According to Adecco, which is basing its data on available Bureau of Labor Statistics data and demographics, 75 million Baby Boomers will retire by 2030, and 29 million have also retired in that past few years alone! That's a massive shift. So – if you are an up and coming Recruiter – odds are in your favor! Here's that article from Adecco.
Part 1: Creating a Target List of Companies You Want to Work For
So this leads me to the focus that you should really be looking at.  Forget Artificial Intelligence taking our jobs, forget all the fluff and doom and gloom predictions for Recruiters being displaced forever. The reality – with the Great Retirement looming on the horizon and a massive brain drain about to hit companies everywhere — is that now is the time to up your game, sharpen your ax, and become strongly positioned to succeed and thrive in this market. You have what it takes. Up your game, and get ahead. But use your sourcing and recruiting skills. What follows are five tips to Create a Target List of Companies you want to Work For using competitive intelligence steps you would use otherwise!
Tip #1 – Use Data Gathering Methods to Find Your Targets:
Use competitive intelligence tools like: Owler, Dun & Bradstreet, Yahoo Financials, Glassdoor, Best Places To Work For List, Reference Librarians, and the like to understand the organizations you want to work for. These are great tools that help you research organizations, get company financials, and create and refine a target list. You can also use: the Association of Talent Acquisition Professionals or your local SHRM chapter and if you are really lucky a SourceCon Metro Chapter in your region to advance your career and make contacts. Here's some screen shots to show you what I mean:
Owler.com: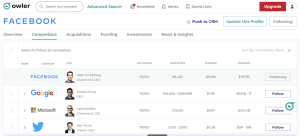 Yahoo Financials: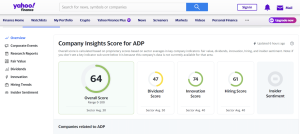 LinkedIn Company Pages: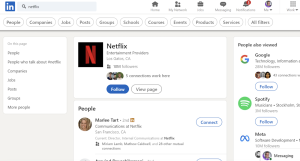 Dun & Bradstreet: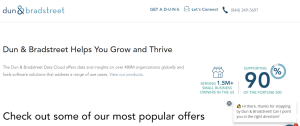 With this tool, to really drill down, check with your local library because many times your local library system will have an agreement to let you do research online through their online library hub for free! Reference Librarians are your friend.
Glassdoor Best Companies to Work For list 2023 – top notch companies that care about their employees.
The key is to do your homework! You want to put together a list of companies you would like to work for. Finally in your research, wouldn't it be nice to know which companies hire remotely and will remain remote-hire-friendly? Look no further than FlexJobs' list of the 100 most Remote Friendly companies.
Tip #2 – Organize Your Company Target List in a Spreadsheet:
Now that you have done your competitive research, put together a spreadsheet like this: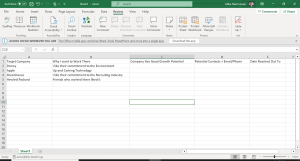 Basic information is key. Target Company name, include website if you wish, record dates you applied, and potential contacts and their contact information. I will show you in the next segment how to use your Boolean skills to drill down and find contacts and decision makers at your targets to get maximum visibility.
If there are no jobs listed you will want to contact someone at the company directly before an opening becomes visible. In your spreadsheet you could include a comments column with the date you spoke to the person and intel you found that may indicate a hiring cycle.
Tip #3 – Organize Email Digests of News From Your Targets:
Go to Google Alerts to set an alert about your targets. Like this: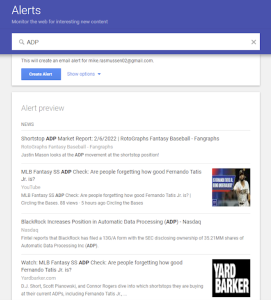 Notice how I just typed in the name of the company I'm interested in. I set an alert for ADP by clicking "Create Alert." This way you can get email digests about your companies. If you'd like to organize this so it doesn't hit your main Google account all the time, simply open another email address to organize your job search or company news digests. Company news digests can be powerful because they alert you when something could trigger hiring events and thus the need for more recruiters/sourcers.
Tip #4 – Create People News Digests – Yes You Can Do This:
You can monitor Twitter Feeds, LinkedIn Feeds or Facebook Feeds all for news about your network's career updates. This is useful for many reasons because your network as they find jobs they will become aware of more leads. You know those status updates that people share on LinkedIn? Use it to your advantage. Notice a Director of VP of Talent Acquisition landing at a new role, congratulate and follow them, but then give them a couple weeks to get settled. Chances are they may need help and a savvy staffing professional can be the one to reach them before they have a team need. Use this to your advantage to gain credibility as you share helpful information. Don't go right to asking for jobs.
Tip #5 – Make Note of Direct Connections and Social Media Followers' Updates About Opportunities:
Finally, make note of new opportunities that are advertised by your followers and network connections. As your friends and connections make note of new opportunities you can use this to your advantage by being one of the first to reach out. Make an effort to let your direct connections know of your search in the intelligence gathering phase and right as you become aware of their needs. Direct connections can pave the way to new jobs. Most every role I have gotten that was high quality in my career came through direct contacts.
Your job search can be a strategic step. You needn't take things in a vacuum. Prepare and be smart. Strike early and often. Go forward with creativity at how you approach your search. Just like in your recruiting sphere of influence you can make a difference by working smart and using competitive intelligence to your advantage in your job search. Happy Hunting – reach out to me if I can help you: mike.rasmussen@sourceandrecruit.com
In my next SourceCon Article – Part II of this "Use Your Sourcing Skills to Flip the Script in Your Job Search" – I will explore how to find key people and decision makers for your job search, and gather their contact information so you can get to the opportunities before they are posted.