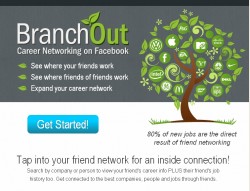 Want to get your friends to help you raid a company? There's an app for that. Want an introduction to a hiring manager? There's an app for that, too. Just nosy about where your friends work? Yes indeed, now there's the (same) app for that, too.
BranchOut, which launched yesterday and is profiled today on TechCrunch, is an app that details the past and current employers of your Facebook friends. And, if you can convince your friends to install the app, you get the same info for the friends of your friends.
It gives a new twist to Sun-tzu's counsel about keeping your enemies closer. With BranchOut installed, you'll want friends closer, lots and lots of close friends who will unlock their profiles so you can see who works or worked where and who has friends there.
If you're a recruiter or otherwise have reasons to know your Facebook friends' work history,  it's a great tool, even if it's a little buggy right now. Michael Arrington, who wrote the TechCrunch piece, warns as much. The most glaring bug I found was that BranchOut has trouble distinguishing between current and past employers. It also listed the clients of some of my friends as employers.
Neither of those is a deal-killer, nor even much of a hindrance. The bigger issue is that few of my Facebook friends have either bothered to complete their profile or make it available.  That may be for the same reason I haven't: Facebook is for fun; LinkedIn is for business.
More than a few TechCrunch readers agree with that. Ventrino posted this note to the BranchOut review: "Have to agree with above comments, facebook is not for business."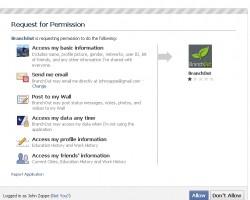 Ddeckster made a similar point, though more, uh, pointedly:
"What a terrible yet inevitable idea! Facebook is not and never will be good for hiring people. Linkedin will not be competed with in this space. Facebook = looking at photos and playing Mafiawars. Linkedin = professional networking, great groups and how to find professionals
I'll be damned if I give a site with such awful privacy as facebook all of my career information."
I can't agree with the "Facebook will never be for hiring people" claim. As we know, that's already happening. Is there a major job board today that doesn't have a Facebook integration? BranchOut itself intends to offer job postings.
However, I think ddeckster is on the money with the concern about privacy and the Facebook user culture. Facebook's privacy record is so spotty that it ranked lower in user satisfaction  than IRS e-filers. The American Customer Satisfaction Index E-Business Report scored it a 64 on the 100-point scale. That ranks it in the bottom 5 percent of the survey by the University of Michigan and ForeSee Results.
If you've missed the whole controversy over Facebook and privacy, Google it.
That would be a purely Facebook problem except that BranchOut and its principals, including CEO Rick Marini, appear not to have paid attention to the privacy debacle. Go to BranchOut and before you can learn anything about it, you have to surrender your Facebook access. Click that Get Started! button and you're presented with a list of everything that BranchOut wants from you, including permission to access information whenever it wants.
There is a BranchOut Facebook site. But it doesn't offer any help with the privacy issue. Who are the people behind BranchOut? Not a lot of help from the website or the Facebook page. CrunchBase has that info.
Despite those unfortunate omissions, BranchOut has some real potential as a sourcing and job networking tool. Even if the majority of Facebook users keep their profiles private, the sheer number of users should provide enough content to make BranchOut a useful addition to the toolbox.
this article was reposted with permission from ERE.net