The U.S. economy continued to chug along in December, much as economists were expecting, adding 155,000 jobs, while holding unemployment at 7.8 percent.
Labor economists, on average, forecasted a gain between 150,000 and 160,000, and no change in unemployment. The rate reported this morning by the U.S. Department of Labor was higher than the November rate initially reported; however, it and a few other months were changed slightly as part of the annual data revision.
The December numbers were substantially below the estimate offered yesterday by ADP and its data partner, Moody's Analytics. Automatic Data Processing said 215,000 private sector jobs were created during the month. The Labor Department's Bureau of Labor Statistics, which prepares the monthly government report, counted 168,000 new private sector positions.
The BLS also revised up November's jobs increase from 146,000 to 161,000, while October's jobs count dropped by 1,000 to 137,000.  For the year, job growth averaged 153,000 new non-farm jobs a month, the same as in 2011.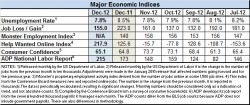 "It's not a home-run report by any stretch, but it's constructive," said John Ryding, chief economist at RDQ Economics. "It's another month of fairly stable, solid, moderate job creation."
December's gains came from growth in health care, one of the strongest sectors throughout the recession, and from increases in food services and drinking places. Construction, which was battered when the housing industry all but stopped building homes, and manufacturing also showed strength, adding 30,000 and 25,000 jobs respectively.
Residential building construction added 5,800 jobs, with residential specialty trades increasing 12,300. The manufacturing increase was split between the durable goods areas — primarily transportation equipment (+6,000) — which added 11,000 jobs, and 14,000 in the non-durable goods — foods (+4,500) and chemicals (+4,300) — sector.
Health care's 45,000 new positions came in ambulatory services (+23,000), hospitals (+12,000), and in nursing and residential care facilities (+10,000). In 2012, total health care employment rose by 338,000.
The food and drinking places sector added 38,000 jobs in December, for an annual average in 2012 of 24,000 new jobs a month. That matched the average of 2012.
Professional and business services grew by 19,000, powered by 5,600 new jobs in computer systems and 5,800 in technical and management consulting. Temp help was essentially flat during the month, losing 600 jobs.
Government at the federal and local levels, especially in education, cut a combined 17,000 jobs. State governments added 4,000.
Average workweeks increased in December by .1 hour to 34.5. Manufacturing also added .1 hour averaging 40.7 hours weekly. Hourly pay inched up by an average 7 cents, to $23.73. For the year, the average paycheck of all private sector, nonfarm workers grew by 2.1 percent.
The number of unemployed workers grew slightly in December to 12.2 million from 12.04 million in November. A year ago, 13.05 million people were out of work. Those out of work for more than 26 weeks continued to hold at 4.8 million.
In addition to those counted as unemployed, another 7.9 million worked part-time because they couldn't find full-time jobs. Another 2.6 million are out of work, but not counted among the unemployed because they didn't look for work during the Labor Department's survey period. When all these categories of workers are considered, the so-called U-6 unemployment rate was 14.4 percent in December, down from 15.2 percent a year ago.